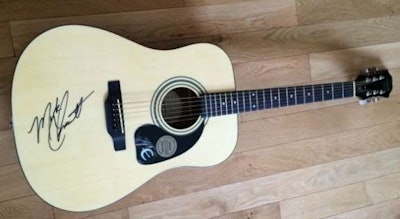 Women In Trucking (WIT) Association Foundation holds its first online holiday auction. Bidding started Monday (Dec. 1).
Proceeds will support the foundation's mission to provide scholarships to advance educational pursuits related to the trucking industry.
The holiday auction consists of 20 items from 14 different companies. They include:
IdleAir donated an Epiphone PR 150 guitar autographed by Mark Chesnutt.
The Cleveland Indians donated four lower level tickets for the 2015 season.
Seat Specialists donated a Superior Sport Captain Seat (includes massage, H/C, power lumbar, and free adaptor kit).
Singer Lindsay Lawler donated a camo drink koozie, patch, to-go cup, two T-shirts, and two trucker caps.
Prime Transport Solution donated a set of PTS50 Pneumatic Landing Legs.
TranStrategy Partners donated a Leadership Assessment and three Business Coaching Sessions.
TruckLogics donated three different levels of annual membership to their TruckLogics business management program.
Trucker Therapy donated four sessions to address anger, stress, and relationship issues or business coaching.
Brenny Transportation, Inc. donated a die-cast collectible Peterbilt model truck, 2-part truck cooler, and a Brenny teddy bear.
Caledonia Haulers donated a ladies hoodie, breast cancer awareness cap, and a DCP collectible Peterbilt model truck/tanker.
JJ Keller & Associates donated a JJ Keller collectible model truck.
Paschall Truck Lines, Inc. (PTL) donated two die-cast collectible model trucks.
Pride Transport donated a woman's zip up hoodie and a Freightliner Cascadia collectible model truck.
Women In Trucking Association donated a die-cast collectible Freightliner Class XL model truck.