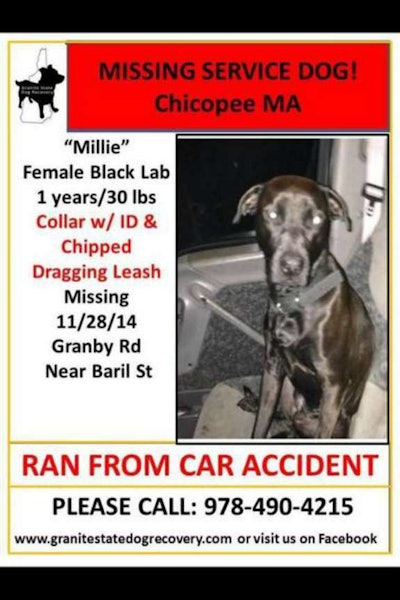 A trucker involved in an accident late last week is still looking for his partner Millie, a year-old Labrador Retriever, and certified service dog.
Bob Winn reportedly suffered broken ribs and a collapsed lung Friday night, when a car crossed the centerline of Granby Road in Chicopee, Mass. and struck his tractor-trailer. The driver of the car was charged with operating while intoxicated, second offence, marked lanes violation, and speeding.
The masslive.com website reports that Winn was holding Millie as EMTs at the scene of the accident tended to him. They insisted he let the dog go and assured Winn the dog would be safe with them.
Millie has been missing since.
The Lab is a certified emotional support animal. She rides with Winn to help him deal with anxiety issues.
The Chicopee Police Department is asking anyone who finds or even sees a dog matching Millie's description, to call them at (413), Chicopee Animal Control at (413) 781-1484.
Winn said people can also call him directly at (978) 490-4215.