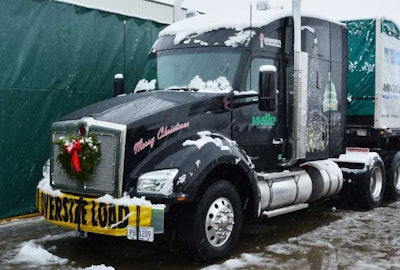 Employees at Kenworth Truck Company's assembly plant in Chillicothe, Ohio, built a special Kenworth T880 in October. Today, they welcomed the Kenworth T880 back home with its special load – the official 2014 U.S. Capitol Christmas Tree.
More than 1,000 Kenworth employees gathered for a brief ceremony at the plant and received a good look at the U.S. Capitol Christmas Tree, which is loaded on an 80-foot steel trailer behind Kenworth's T880 flagship heavy haul, vocational truck. The T880, equipped with a comfortable 52-inch sleeper, fuel-efficient 500-hp PACCAR MX-13 engine, and dependable 13-speed manual transmission, is transporting the 75-foot white spruce from the Chippewa National Forest and the Leech Lake Band of Ojibwe to Washington, D.C. The T880 was made available for the tour by PacLease, which offers customized full-service lease, rental and contract maintenance programs featuring Kenworth trucks.
A Kenworth T680 Advantage with a 76-inch sleeper and PACCAR MX-13 engine accompanied the T880 on the tour's stop at Kenworth's Chillicothe plant. The T680 Advantage is pulling a van trailer carrying 70 smaller Christmas trees and 10,000 hand-made ornaments to adorn those trees. The smaller trees will be displayed in various federal offices
"It was a special moment for our employees to see the Kenworth T880 pull into our plant's parking lot with the U.S. Capitol Christmas Tree in tow. One of their own has come back with a very unique load," said Daryl Simon, Kenworth assistant general manager for operations. "It's quite an honor for our employees to know that a truck they built is playing an integral part in the Christmas celebration of our nation's capital. It's particularly important as the U.S. Capitol Christmas Tree Tour celebrates its 50th anniversary this year."
The T880 and T680 Advantage are piloted by an owner-operator and driver with long-time Kenworth fleet customer Wille Transport based in Cohasset, Minn. The Wille Transport drivers and their wives took a brief tour of the Chillicothe plant before heading out to the tour's next stops in Charleston and Wheeling, W.Va., and Marietta, Ohio.
The tour will arrive at Joint Andrews Air Force Base in Maryland this Thursday, to prepare for its early morning arrival at the U.S. Capitol on Friday, Nov. 21.
The tree was harvested in late October and secured in an 80-foot crate to protect its branches and limbs from damage during transit. A large, 3-foot by 16-foot viewing window on the trailer offers visitors an opportunity to see the tree at each tour stop
The tree is making its way to the nation's capital, where it will be set up and displayed on the west lawn of the U.S. Capitol. Speaker of the House John Boehner, R-Ohio, will light the tree in a special ceremony on Dec. 2. A complete tour schedule can be found at the 2014 U.S. Capitol Christmas Tree web site (www.capitolchristmastree.com) where the public can track the truck's progress.