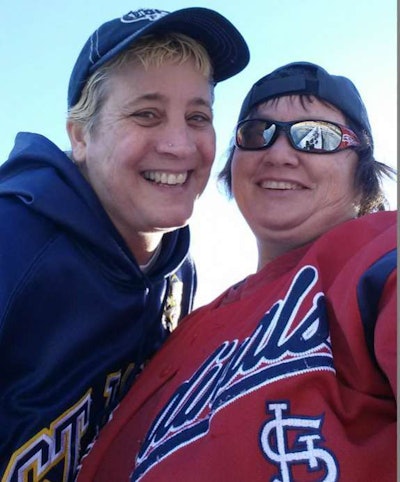 I have been trucking for almost 20 years. I was married and in a very abusive marriage for over 16 and half years. I eventually left that when I realized that there was true love and life and laughter after a horrible experience.
I waited and waited and knew that someone somewhere was my soul mate, my true love.
This last year, 2014, I had the three most important people in my life pass. My biological mom at age 65 suddenly of a heart attack, two weeks later my adopted dad told me he had terminal pancreatic cancer and it has spread already over his body and he passed four months after my biological mom, and then my grandma passed suddenly in November. I thought I lost everything. I felt like my world was gone. I felt alone, scared, afraid of the "unknown" due to these three people in my life always gave me love, support out on the road, and knowledge.
In December though I received a message from a friend of mine letting me know that they have been following me and watching my posts and saw a connection even though we haven't met in real life yet. I opened up and opened my heart and started dating my soul mate.
I was in love and this wasn't puppy love. This was a love I never have experienced or felt before. The more we got to know each other and talked the more I fell in love and knew that God had put her in my life for a reason and gave me what I prayed for all my life. I feel safe, loved, cared for and taken care of when before I felt nothing.
Everything happens for a reason and I know I am here for a reason and I know I live life to the fullest and live, love, and laugh for the three people in my life that are now watching over me and I am doing this now with the woman who I am going to spend it with the rest of my life.
Life is too short to not be happy so live life to the fullest. Never take for granted the time you have with the people you love as you never know when they will depart this earth.
Live, laugh and love as much as you can and when you can.
[gtbutton link="http://www.truckersnews.com/valentine/ "]Tell Us Your Love Story[/gtbutton]