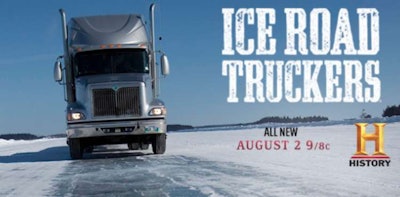 When last we saw them, those daring drivers running the dangerous winter roads of northern Canada were wrapping up Season 8 of the History Channel's hit show, Ice Road Truckers. In the dramatic season finale:
Lisa Kelly's decision to follow competitor Darrell Ward on the last leg of an extra long trip put her on actual thin ice but in the end kept her out of hot water with her boss Mark Kohaykewych
Alex Debogroski and Hugh Rowland made it home safe and sound
And Darrell's son Reno followed Art Burke and Todd Dewey back to Winnipeg after his first trip over one of Canada's infamous ice roads.
In the end, Polar Express won the Season 8 load competition 171 to 170.
Now, a brand new competition begins as Ice Road Truckers returns Sunday Aug. 2 at 9 p.m. Eastern (check local listings) on the History Channel with several changes, including a big one.
Spoiler Alert, Read at Your Own Risk:
Rowland is not back this season and a new guy, Mike Simmons, joins Polar.
Easily the highlight of the Season 8 finale was the last few miles of Lisa and Darrell's long trip home. He talked over the CB about starting a new company and offered Lisa a job.
Back at Polar headquarters, Kohaykewych told her she did the right thing following Darrell and asked her point blank if she jumping ship to join Darrell. The episode ended with her saying she had to think about it.
Spoiler Alert II, Read at Your Own Risk: Kelly thought about it an accepted Darrell's offer.
Season 9, filmed in Manitoba, Canada, seems to be shaping up to drive the drama ever higher from where things left off last time. A preview of the new season says:
"… Darrell Ward is out for cold blood, and he's starting a new trucking company with his sights set on taking down the heavyweights at Polar. To help him achieve this, he's out to poach Polar drivers and their loads. It's an epic battle of David vs. Goliath, as Ward's tiny company takes on any and all jobs, no matter how far or how dangerous, to compete.
"Meanwhile, Polar boss Mark Kohaykewych – aided by trucking legend Alex Debogorski, seasoned pros Todd Dewey and Art Burke and new driver Mike Simmons – refuses to take the threat lying down.
"Trucking legend Lisa Kelly can only swear allegiance to one company and her decision could upend the balance of power on the winter roads.
"By season's end, these rivals will have to work together to move a load to one of the most remote destinations in all of North America, where even the big rigs aren't permitted to pass – a multi-mile ice crossing over the frozen Hudson Bay!"
A sign of the success of Ice Road Truckers is that it is being used as a lead in for a new History Channel show, Power & Ice. The show follows workers of three utility companies working in Alaska.
Be sure to follow Truckers News' ongoing coverage of Ice Road Truckers.