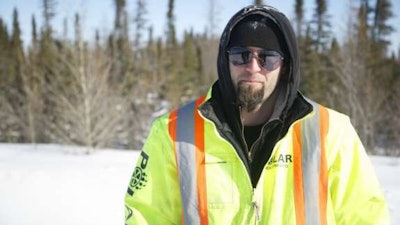 It is with suitable drama that narrator Thom Beers announces a major change in the world of Ice Road Truckers in the History Channel show's most recent episode:
"A new soldier joins the battle …" and "A new driver springs into action …"
But, every one on the Ice Road Truckers had plenty to worry about in Sunday night's (Aug. 23) Episode #4.
The new meat dropped into the grinder that are the ice roads of northwestern Canada is Mike Simmons, fresh from doing heavy haul duty in Canadian oil fields.
Polar Enterprises owner Mark Kohaykewych makes it clear up front that he's not in the mood for any showboating from the new guy, no matter how good he thinks he is. And, to prove that point, pairs him with Art Burke for Simmons' first trek up some bumpy roads and his first ice crossing.
Simmons' wisecracking on the CB is short-lived as Burke gives him a lesson in how to drive across rough roads: quickly. All of Simmons' bravado drains during a 10-mile crossing across the frozen – but unmaintained – Island Lake on his way to remote Elk Island Lodge.
"I'm trying not to think about the millions of gallons of death under the ice," Simmons says as he drives.
A smug Burke and a mostly-chastened Simmons arrive at the lodge.
"Now I know why Art curses so much," says Simmons.
Kohaykewych's strategy of pairing the newbie with "Polar's wildcard" to create Ice Road Truckers' own Odd Couple appears to have paid off, if only for now.
Meanwhile, Polar's other veteran Todd Dewey is sent on a run to Muskrat Dam, along a sparsely traveled ice road. Clipping along, Dewey suddenly gets warning lights on his dash: a particularly severe bump rips the plug out of his brakes' air tank.
With no replacement plug in the modest repair kit he carries, Dewey is sidelined in the wilderness with -30 degrees on the thermometer.
As fate, and good reality TV, would have it, who is the only other trucker on this desolate ice road? Yes, it's Darrell Ward, once a Polar teammate and now competitor with his own company, hauling his highest-priced load of the season.
Ward, of course, has a plug for Dewey's tank, and observes that part of the Ice Road Trucker's code that says something like, "You never leave a fellow trucker disabled in the bush even if it means gaining a huge advantage in the competition." Something like that.
And, the two of them ramble on to Muskrat Dam successfully.
Lisa Kelly, Ward's partner in the new company, faced yet another harrowing ice crossing in Sunday's episode. With the crossing about to close, Kelly had to cross quickly, but not too quickly.
In the middle of the lake, the ice begins to crack and Kelly begins to drive with one hand on the wheel while standing outside the cab. She eventually jumps from the truck as the ice cracks loudly, but regains her spot behind the wheel and makes it to the other side.
"I survived to truck another day," said a relieved Kelly. "They need it. I brought it. That's all that matters."
Just as Kelly wrestled with making a trek on an unfamiliar and poorly marked road last week, Alex Debogorski is on his first trip to Big Trout Lake in Ontario.
The veteran driver comes to a fork in the road not once but twice. Luckily he makes the right decision both times and gets his load of building supplies delivered to a thankful First Nations village.
Ice Road Truckers airs at 9 p.m. Eastern on Sundays. This episode will repeat at 8 p.m. before the new one next Sunday, Aug. 30.