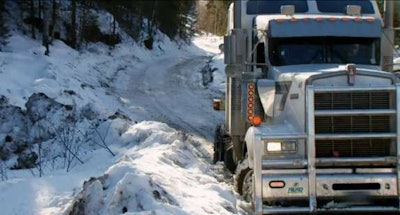 Mud-ugly.
That's the only way to describe Sunday night's episode of the History Channel's "Ice Road Truckers."
With the wilderness roads they travel thawing and turning to slop, several of the drivers got down and extremely dirty trying to deliver their loads and get home.
One even cheated what could have been a watery end.
Art's On Truly Thin Ice
"The warm weather is gonna kill us," said Polar Enterprises owner Mark Kohaykewych as the episode opened.
Art Burke almost proved him right.
As last week's episode ended, Art was considering his chances of making one last ice crossing. This week he ventured into the middle of the rapidly melting ice of Sachigo Lake only to turn back when the ice started to give way.
"Away we go for a second attempt," said Art, steering closer to shore this time where the ice might be thicker.
It wasn't.
Art backed off the ice, and called Mark, who told him to stay put on solid ground. His boss then called back with a way home to avoid another ice crossing.
Later, Art sat in Mark's office and heard his boss say, "I'm glad I didn't have to send a body bag for you."
Lisa Faces Uphill Battle
Like Art, Lisa Kelly faced crossing a lake that was quickly returning to its liquid state.
"I'm here to make money, not go to Heaven," she said as she inched across Sparling Lake with 20 tons of building supplies.
That would prove to be the easy part.
On her return trip home, Lisa bounced her Kenworth all over the muddy road, sliding back down an incline, getting stuck in the mire of mud and snow.
Lady Luck was Lisa's ridealong this episode as a road maintenance crew happened by in a snowcat. She got pulled out of trouble and climbed the hill without another problem … for a while.
Darrell Tussles With Bad Roads and Mark
Meanwhile, Lisa's business partner Darrell Ward was doing little to improve relations with Polar Enterprises.
As the current season of "Ice Road Truckers" began, Darrell grabbed a load right out from under Mark's nose. Sunday night, Mark tried repaying the favor.
Polar had snatched a load Darrell was contracted to haul. Darrell showed up at Polar's yard, hooked up to the trailer in question and as he drove off, an unhappy Mark gave chase on foot. He leapt onto the step of Darrell's truck, only to be unceremoniously shoved off as Darrell headed north.
On the muddy, rutted and rapidly thawing road that proved all but impassable, Darrell took a moment to reconsider what he had done.
"Mark may have gotten lucky I took this load," Darrell said before unloading at Deer Lake and turning for home on the same road on which Lisa was stuck once more.
Alex Returns
After being absent from the last two episodes, IRT veteran Alex Debogorski was back Sunday night with 30 tons of cement to deliver to a building project.
Like the others, Alex faced roads that were falling apart, but he did so with no small amount of good humor.
"I'm glad I don't have a load of eggs," said Alex as he bounced his Mack over the rutted trail toward a hill like Lisa had faced.
Stymied on his first attempt, Alex decided it was time to bring chains to bear on the incline.
Saying it was best just to give in and lie down in the mud rather than try to stay clean, Alex chained up and braced for another go.
"Because I'm adventuresome, we'll give it a try," said Alex, switching his Mack from automatic to manual.
Muddied but unbowed, Alex made it not just up the hill but all the way to his destination with no further problem.
"I'm ready to go home and have a bath," he said.
"Ice Road Truckers" airs Sundays at 9 p.m. Eastern on the History Channel. Check local listings.