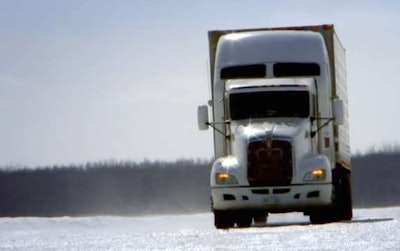 Who among us doesn't welcome the arrival of spring and the melting of ice and snow?
Truck drivers on the ice roads of Canada's vast wilderness, that's who. That was evident in Sunday night's episode of the History Channel's show, Ice Road Truckers.
Every one of the drivers had their latest hauls made more difficult by an early thaw. Lake crossings became even more harrowing, if that's possible. Roads were turning to mud as drivers crossed them. And, there was a minor mechanical issue that led to a major bit of tricky driving.
Here's how the drivers did:
Todd Dewey
Polar's "top dog" was in the doghouse.
Todd was greeted at Polar HQ by an unhappy owner, Mark Kohaykewych.
During the episode two weeks ago, Todd dumped a load of replacement blades intended for graders keeping an emergency airstrip open. He swore his way through reloading them and got them delivered.
Or so he thought.
Mark welcomed Todd with a new load and the news he had to pick up three of the grader blades he somehow left in the snow. This became his "mission of redemption."
He got the blades where they were meant to go and we left Todd by the side of an ice road with a wood fire blazing, warming a can of stew under the glow of the Northern Lights. (What, no microwave, rice cooker or lunchbox oven on board?)
Art Burke
Two weeks ago, Art had truck troubles and spent part of that episode cooling his heels in a remote bowling alley.
This time, Mark gave him an important load to get to a new location, the First Nations village of Sachigo Lake in Ontario. He also gave him some advice: the thaw is coming in a big way and as always, it's "safety first."
Art managed the tricky trip, including a five-mile-long rather sketchy ice crossing.
But, the real fun was the trip home.
Choosing not to retrace his steps, Art took a different road home and when he came to a fork in the road, took the branch that led to another ice crossing, which was even sketchier.
The episode ended with Art on a lake that looked more like a giant snowcone than frozen surface.
Mike Simmons
Oh, the trials of the new kid.
Mike found out the hard way that when ice roads start to become more road than ice, travel gets tricky. With 30 tons of concrete on his flatbed, he got stuck in the soft snow on the side of the road. Despite adding more tire chains, Mike was truly just spinning his wheels.
While cursing his bad luck (or was it bad driving?), along comes a tanker, which luckily became a yanker.
The Good Samaritan freed Mike from his plight, and Polar's newest road warrior vowed to do the same for the next poor soul who needed a tow.
Darrell Ward and Lisa Kelly
When last we saw the new business partners, they were chilling by the side of a road as an ice bridge that had melted was being repaired and refrozen.
They had a frontend loader and two massive electrical transformers to get to Deer Lake, which was facing a power outage. The delay meant no electrical for this small remote village.
The two waited as long as they thought prudent and then crossed and hotfooted it to Deer Lake before the ice bridge was officially reopened.
Mission accomplished.
"This was a huge score for the company," Darrell said.
But, wait. There's more.
On what should have been an uneventful trip home, Darrell lost a fan belt and his truck overheated and stopped.
Lisa to the rescue … again. (Do we sense a pattern emerging here?)
The two decided to have Lisa push Darrell's truck and trailer the 120 kilometers to a repair station. She did so with what appeared to be only a small amount of stress, saving a large amount of money in the process.
Ice Road Truckers airs at 9 p.m. Eastern on the History Channel. Check local listings.
See all of Truckers News' coverage of Ice Road Truckers.