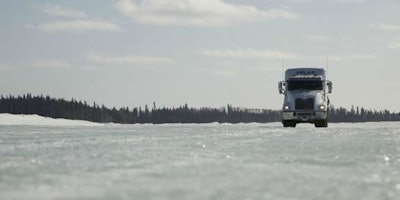 "Next time, on Ice Road Bowlers …"
When Sunday night's episode (Season 9 Episode 6) of Ice Road Truckers ended, Art Burke was wearing rented shoes and rolling a few frames at a mostly deserted bowling alley as he waited for his truck to be towed and repaired: it appears to have little or no oil.
Cut to a frustrated Polar Enterprises owner Mark Kohaykewych wondering aloud if the problem is the truck or the driver.
Oh, but that was only one of the highlights of what was the busiest (best?) episode of Season 9 of the History Channel's hit reality show. All of the drivers had more than enough to handle on their various hauls.
Todd Loses His Load
With great seriousness, Mark tells Todd Dewey – a.k.a. "Polar's top dog" – that his next run on the ice roads is especially important. It's the company's first load for a government agency, which could lead to many more and plenty of money.
Todd responds by heading off down the ice road with all due haste, anxious to deliver replacement blades for snow-clearing graders at a remote airport.
Repeatedly, Todd checks the steel blades strapped to the deck of his trailer and finally notices they are beginning to shift … and promptly keeps driving.
Then, as if it comes as some huge surprise, he watches the steel blades slide off the trailer and onto the ice road.
Much swearing ensues, and Todd is left to reload the grader blades by hand onto the trailer. For an extra precaution, he pours water over them hoping they will freeze and stay in place for the rest of the trip.
Mike Goes It Alone
Polar's new guy Mike Simmons is off on the ice roads solo for the first time. He's delivering a 40,000-pound excavator on a trailer that allows mere inches of clearance on the uneven ice road.
Mike worries aloud about the close calls, and then comes to an abrupt halt as the trailer gets hung up, lifting his truck's drive wheels enough so all they do is spin.
With only a modest amount of unhappiness, Mike jumps in the excavator, extends its boom arm and pushes the truck free. And, in a nice show of courtesy, he takes time to fill in by hand the big gouges the excavator's bucket left in the road.
Lisa & Darrell To The Rescue … Almost
Once again, taking on "a load no one else would take" Lisa Kelly and Darrell Ward hit the road with a front-end loader and a pair of mammoth electrical transformers. Their destination is a remote community whose electrical system is failing, and they need to get there by the next day's dawn.
Between them and success is a long, and, of course, harrowing, ice crossing, which they handle with only minimal heartburn.
However, on the other side, they find the road is shut down because it has thawed too much. They, and several other vehicles, must wait until it can be repaired and refrozen … while the clock ticks away.
The episode ends with Darrell and Lisa wondering if they will get the transformers delivered on time, and the rest of us wondering of Art can make that nasty 7-10 spilt at the bowling alley.
Ice Road Truckers airs Sundays at 9 p.m. Eastern on the History Channel.