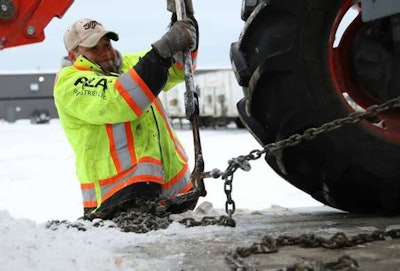 In the current promo for Sunday's episode (Season 9, Episode 3) of Ice Road Truckers, Polar Industries owner Mark Kohaykewych lays it out for driver Todd Dewey:
"This is the heaviest load we've ever moved across the ice.
"You have a right to say no."
Cut to an agitated Dewey driving over a frozen lake:
"Nobody was supposed to be on this ice crossing!
"What happened to the block in the road?"
Based on that alone, Sunday night's episode (9 p.m. Eastern, check local listings) of the History Channel's truck driver reality show ought to be worth watching.
Last week and the week before, Dewey had to get himself unstuck to make his deliveries on time.
Also last week:
Art Burke made his drop on time, but not without a touch-and-go ice crossing and almost losing his load along the way
Alex Debogorski made a touching delivery of donated food to a First Nation's village in need
The new partnership of Darrell Ward and Lisa Kelly took on a delivery "no one else would take" and came through, but not before without some struggles, including Lisa getting lost
Truckers News will post live on Twitter and Facebook throughout Sunday's show and have a recap on Monday, Aug. 17.