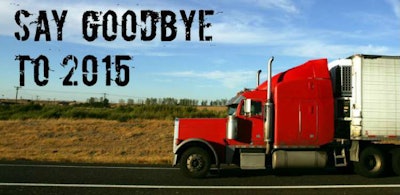 Let's face it, 2015 deserves a rest. In fact, it needs to hit the showers and let a fresh, new year take over. Luckily, that happens Friday.
But before 2015 hangs it up, it's worth looking back at a wildly busy year in the American trucking industry.
Here are 10 stories that were responsible for, at least in part, what kept us all hopping in 2015.
[gtbutton link="http://www.truckersnews.com/rewind-2015/"]See All of Our Year End Coverage[/gtbutton]
Two High-Profile Pileups on I-80 in Wyoming. Within the span of four days there were two massive weather-related pileups on I-80 near Laramie, Wyo. The first, on April 16 involved 50 vehicles, including a number of trucks. While no one was killed, I-80 was closed for almost three days. The second, on April 20, resulted in one fatality and 16 injuries. In both instances, police blamed vehicles driving too fast in snowy conditions for the pileups.
OEMS Exit Mid-America Trucking Show. One by one, the major truck manufacturers announced they would not exhibit at the 2016 edition of the Mid-America Trucking Show (MATS) in Louisville, Kty. Daimler Trucks North America, Volvo Trucks, Mack, Navistar and Kenworth all said they will not participate in the show in March. There were also calls for MATS to be staged every other year instead of annually. MATS management said the show will go on as scheduled.
Leadership Changes at ATA and TCA. In October, Governor Bill Graves announced he will retire as president of the American Trucking Associations (ATA) at the end of 2016. In August, Brad Bentley announced he was leaving the Truckload Carriers Association (TCA). The ATA said it will stage a national search for Graves' replacement, while John Lybolt took over at TCA in late December.
Trucking Surpassed $700 Billion for the First Time. Increased demand and lower prices for diesel fuel helped the American trucking industry set a new revenue record last year of $700.4 billion. The American Trucking Associations said trucks moved 9.96 billion tons, or 68.8 percent, of all domestic freight in 2014. There is no indication yet if that trend continued in 2015.
Driver Shortage & Driver Treatment. A new report from the American Trucking Associations was issued in October that said the current driver shortage is now estimated to be 48,000, and is expect to grow to 175,000 by 2024. Trucking companies of all sizes increased pay, improved bonuses, added perks and upped benefits to help put and keep drivers in trucks. At the same time, J.B. Hunt issued an eyebrow-raising whitepaper titled 660 Minutes: How Improving Driver Efficiency Increases Capacity. It was a scathing indictment of how shabby treatment of truckers by shippers wastes drivers' precious time and drives up costs.
Walmart Driver Indicted in Tracy Morgan Crash. Late in December, a New Jersey grand jury indicted Kevin Roper on charges of first degree aggravated manslaughter, second degree vehicular homicide and seven counts of third and fourth degree aggravated assault. In its investigation, the National Transportation Safety Board concluded Roper was traveling about 20 mph over the posted 45 mph speed limit and had been awake for 28 or 29 hours out of 33 hours prior to the crash. Early in the year Walmart paid settlements to Morgan, the family of the man who died in the crash and others who were injured. However, the mega-retailer's insurance companies took exception to those settlements, saying the they were far too generous. In October, Morgan hosted Saturday Night Live.
Continuing Parking Problems. When the American Transportation Research Institute released its report titled Critical Issues in the Trucking Industry for 2015 in October, high on the list was the lack of suitable truck parking, In fact it ranked fifth on ATRI's list. Also in the past year, the Federal Highway Administration released a report that confirmed those finindgs, and an deep dive into the parking problem by our sister publication "Overdrive" found truck parking is "bad all over."
Autonomous Trucks Arrive on U.S. Highways. In early May, with the Hoover Dam as a dramatic — and massive — video screen, Freightliner introduced the first road-legal, so called self-driving truck. Inspiration's arrival – including driving across the top of the dam – was covered by a huge press corps. While called "self-driving," the Inspiration still must have a driver on board.
Deadline Set for Electronic Logging Devices. As the year came to a close, the Federal Motor Carrier Safety dropped a long-awaited major regulatory bomb when it made public the final rule requiring truck drivers trade in their paper logs for electronic ones. The ink was hardly dry on the pages of the Federal Register when the Owner Operators Independent Drivers Association challenged the ELD rule in federal court. Legal issues notwithstanding, ELDs are due in trucks by late December 2017. Some drivers, especially owner/operators say they'll leave the business before installing an ELD.
Passage of a Federal Highway Bill. Congress made history in late December by finally passing a five-year, $305 billion surface transportation funding bill. And, while it provides much needed money for repairing and building highways and bridges, the 2,000-page bill included a slew of regulatory changes for the trucking industry including a mandated detention time study, CSA reforms, drug testing changes and changes in how the FMCSA makes rules. However, some of the changes sought by the trucking industry were cut from the final bill, including allowing 33-foot double trailers.