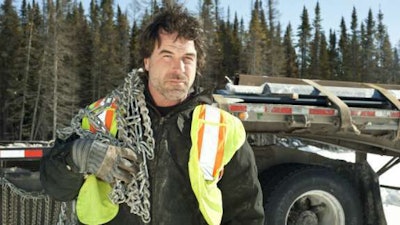 Let's face it, you'll probably never have the chance to race across the ice roads in the frozen north of Canada.
However, you can see plenty of ice and snow and natural wonders with a couple of guys who drive those frozen highways from the safety and comfort of a luxury cruise ship.
On May 27, 2017 the Ruby Princess sets sail from Seattle destined for Alaska's Inside Passage, and onboard will be Darrell Ward and Todd Dewey, two members of the cast of the hit reality show "Ice Road Truckers."
Prices for the IRT fan cruise start at $1,189 per person for an inside cabin up to $1,969 per person for a cabin with a balcony.
The seven-day cruise includes stops in Victoria, British Columbia, Canada; Ketchikan, Juneau and Skagway. The Ruby Princess also cruises through Glacier Bay National Park.
Ward and Lisa Kelly last season formed their own partnership to deliver goods to remote locations in Canada. Dewey is described as the "Top Dog" at Polar Enterprises, competitors of the Ward/Kelly team.
Filming for the new season for "Ice Road Truckers" is under way.
On Facebook follow:
For more information about the cruise, email [email protected]