There are almost 19 million reasons for Americans to pause — even briefly — today, Nov. 11 and be thankful. (Meet some of them here.)
On Veterans Day 2016, there are 18.8 million men and women among us who served in one of the branches of the U.S. military. Their service spans all eras, from World War II to the conflicts that still rage today.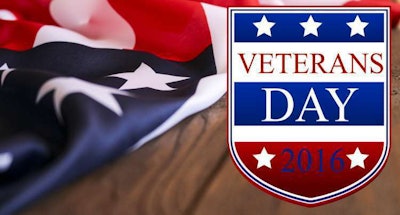 They are men and women of every race and ethnic heritage. They left rural farms, comfortable suburban homes and urban ghettos to join the Army, Navy, Air Force, Marines, Coast Guard, National Guard or the Reserves.
And, many mustered out and became part of the American trucking industry; some even started their own companies.
Today, numerous fleets, both large and small, aim many of their driver recruiting efforts at hiring veterans. The federal government has stepped up efforts to help military personnel transition from the service into truck driving jobs more easily, and grants have been made to colleges and driving schools to help veterans get the skills they need to drive.
Truckers News asked readers to share photos of themselves and tell us about their time in the military. We were flattered by the response.
You can meet all of them on our special veterans gallery, but here are a few who stood out.
Gary Ward wrote:
"I joined the Alabama National Guard Co A 1st Battalion 131st Armor located in Samson, Alabama while I was still in high school as a senior in December, 1972. When I graduated I left for Fort Knox, Kentucky where basic and advanced training was completed on M-60 tanks, and then later on in years we went over to the M1 Abrams tanks. In December, 2001, 29 years later, as a E7 Sergeant First Class I decided to hang up my uniform and retire."
Paul Turner spent 10 years in the Air Force and said:
"I served from 1977 to 1987 as a radar operator in the Air Force. It was one of the best decisions I've made in my life. I've been stationed in Mississippi, Arizona, Germany, Saudi Arabia, Alaska and New York. I want to add my thanks to all of my brothers and sisters who have served in all branches … Thank you for your service!"
Brigette Allen is one of the women who served and now is part of the trucking industry. She told us:
"(She served in the) United Stated Marine Corps 0241 missile guidance (12 years). I am an express fleet coordinator and I am also a current driver for Swift."
Ruben McKenzie-Binns served not just in one branch of the military, but two, He wrote:
"I joined the military right out of high school. After serving four years in the Marines, I took a year off to enjoy more time with my wife and kids, and then enlisted in the Army National Guard. In the 13 years I served with the Guard I completed two tours overseas."
And, here is the story of a long-serving female member of the military who is looking for a job in trucking. Sgt. Connie Bailey writes:
"I enlisted into the Kansas Army National Guard on Aug. 27, 1980 and served as a UH1-H Helicopter Crew Chief. After undergoing a reorganization, I then became a wielder, Construction Equipment Operator (62B), Light Wheel Mechanic (63W), Track Mechanic (63H), Heavy Truck Mechanic (63B20), Heavy Equipment Mechanic (63S20), Fuel Specialist (77F), Fuel Sergeant (77F20), Assistant Shop Foreman, Assistant Platoon Sergeant, Squad Leader, Chaplain Assistant's Assistant (56M). I have driven everything they had, including a 31-ton HEMTT. Now that I only have 10 months before my retirement, I have yet to find a civilian trucking company who will accept all my military training and get me home once a month to complete my obligations."
Be sure to see where veterans can receive special discounts on meals, goods and services on Veterans Day.