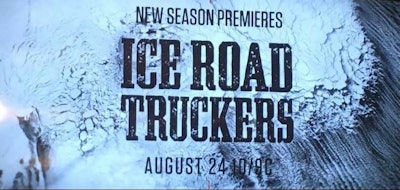 The 11th season of the hit reality TV show Ice Road Truckers debuts at 10 p.m. Eastern, 9 p.m. Central Thursday, Aug. 24.
Todd Dewey, one of the stars of the show, posted to his Facebook page today, "Let the fun begin???? who's ready? Just a couple weeks away!!!!" He also posted the show's logo for the new season.
This will mark the first new season for the show since Darrell Ward's death last August in a small plane crash in Montana. Ward joined the show in Season Six and quickly became a fan favorite. The preview trailer for Season Eleven is eerily narrated by Ward.
Nothing has been said officially about who — if anyone — will replace Ward on the show. There is, however, plenty of speculation that Reno Ward, Darrell's son could join the show.
In a three-part interview on the Truckers News Podcast, Dewey talked about driving the ice roads, working with Ward and others on the show and his life as a truck driver.