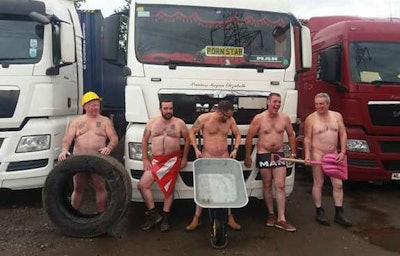 So many truck drivers are helpful, giving charitable people. They drive in fund-raising convoys, donate their precious home time for community events and gladly stop on the highway to help those in need.
But, a group of drivers in Lincolnshire, England appear to have taken the idea of giving of themselves to a new level.
The Full Monty,
a group of drivers posed naked — but with some strategically positioned items — to be photographed for a fundraising calendar. The group
Drivers4Defibs
is publishing its third calendar, which sells for 10 pounds, or about $13.25. It's due out late next month.
Proceeds benefit LIVES For Lincolnshire, the emergency medical service serving Lincolnshire, a county in eastern England on the North Sea. More than 700 LIVES volunteers respond to some 20,000 medical emergencies each year.
Neil Donner, a HGV Class1 lorry driver for Laws Transport Ltd, is the man behind the calendar. He told lincolnshirelive.co.uk that LIVES holds a special place for him. When his wife was 12 years old, she was struck getting off a school bus and was saved by volunteers of the emergency service.
"Drivers4Defibs started out a couple of years ago with a calendar to help a local group who put defibrillators into my town of Sleaford," said Donner via a Facebook message. "We raised over £2000 (about $2,650) and then a few of us decided to put on a funday for LIVES In Lincolnshire to enable them to buy defibrillators for their volunteer first responders and we did another calendar for that event. Just recently we recorded a CD with cover versions of Highway to Hell and Rocking All Over The World.
"I kind of am the organizer but I have a team of friends that put in their free time to help. We weren't going to do another calendar this year, but, as always, I was asked if we would and as I am a person who likes a challenge. I persuaded a group of lads to get involved and we did the photo shoot on Sunday and hope to have it out by mid November ready for Christmas there's only going to be 100 copies due to sponsorship from a local skip hire firm."