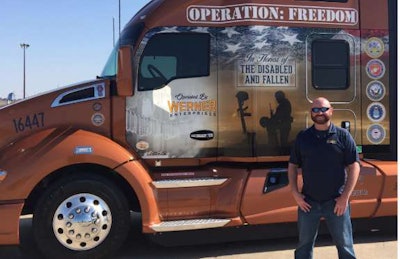 Are you one of the almost 1 million military veterans who are now part of this country's trucking industry and related fields?
If so, Truckers News wants to recognize you as American's celebrate Veterans Day, Saturday, Nov. 11. On Veterans Day, Trucker's News will publish a salute to veterans, and we want you to be part of that tribute.
Troy Davidson is one such trucker/veteran, and a special one at that. He was the first winner of a contest honoring veterans who find successful careers in the trucking industry. He served six years in the Navy, and during his last tour of duty was a jet engine mechanic for the Blue Angels.
Click here to share a photo of you in uniform from your time in the military and tell us a little bit about yourself.
Army. Navy. Marines. Air Force. Coast Guard. National Guard. Truckers News wants to salute all of you, and recognize you for your service to our country.
Once published, you'll be able to see all the veterans who are now truck drivers here.