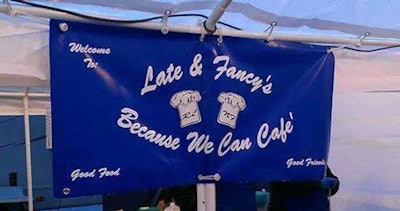 Truckers in need of a good meal at next month's Mid-America Trucking Show will be able to have one for free thanks to the efforts of two retired drivers, Janet and Lawrence McNeil. The husband and wife duo coordinate the "Cause We Can" Cafe in the truck parking lot each year at MATS, which offers drivers a place to enjoy a meal and network with other truckers.
They inherited the idea from truckers who came before them. Other truckers would bring grills while others would bring hotdogs, and they would gather in the truck parking lot over the food and chat.
Over time the initiative began to grow and in 2012 the McNeils packed up a small trailer hooked to their personal vehicle and brought a grill, a few tables and some other items. They set up on the "Yellow Brick Road," the yellow brick pedestrian pathway in the MATS truck parking lot.
"We kind of went off on our own that year. When we first started out we basically bankrolled the whole thing. For my husband and I it was a way of giving back," Janet said.
They offer free breakfast and dinner to the truckers attending the show, their families, vendors working at the show, and more. Anyone who wants a meal is welcome, Janet says.
"This is what we do because we can, so that's how our group got a name," Janet said.
They have a core group of volunteers who come out to help each year. Each year truckers visiting MATS bring them donations to use for the cafe. Some people offer monetary donations but Janet says no one should feel like they have to pay to get a free meal. The cafe is free and open to everyone.
"We have different people that come in and bring us stuff or they just show up and help us break it apart on Sunday before we go home," Janet said.
The cafe serves breakfast Thursday through Saturday and dinner on Thursday and Friday night. Breakfast is served at around 8-9:30 a.m. on Thursday and Friday, and around 7-8:30 a.m. on Saturday. Dinner is served from about 6:30-8 p.m. Thursday and Friday night. This year's menu includes salisbury steak, French onion soup, chicken or beef enchilada casserole, pulled pork sandwiches and much more.
"We do it according to what the show times are because we want to quit serving about a half hour before the show opens because it wouldn't be fair to compete with their vendors inside over there that are paying a lot of money. We never start feeding people at night until after the show closes," Janet said.
The McNeils' efforts, and those volunteers, have created a place at MATS where people can come together over good food and simply get to know one another. They usually feed about 150-200 people for breakfast and another 200 at dinner. The McNeils retired from trucking in 2016 but continue to bring the "Cause We Can" Cafe to MATS each year as a way to keep supporting the trucking community.
"We just continue to do it to give back to what we love to do and make it a place where people can gather," Janet said.
While no one is required to donate in order to get a meal, the cafe will be accepting donations Thursday morning for the St. Christopher Truckers Relief Fund. The menu for this year's "Cause We Can" Cafe is available in its public Facebook group. It will be located on the yellow brick pathway in the Papa John's Cardinal Stadium Parking Lot C.
Show Hours:
March 22 VIP: 10 a.m. – 1 p.m.
March 22: 1 p.m. – 6 p.m.
March 23: 10 a.m. – 6 p.m.
March 24: 9 a.m. – 4 p.m.
Show Location:
Kentucky Expo Center, 937 Phillips Lane, Louisville, Kentucky 40209
Registration:
Registration is available online for $10 or tickets can be purchased at the door for $10.
Parking:
Free truck parking is available at Papa Johns Cardinal Stadium. A free shuttle service will be on site to take truckers from the parking lot to Kentucky Expo Center, and back. The truck parking lot will open March 21 at 7:30 a.m. and stay open through March 24 at 6 p.m. Trucks must enter the parking lot through Gate D. The GPS address for Gate D is: 4146 Park Boulevard, Louisville, Kentucky 40209.
The stadium has 3,000 passenger vehicle spots available. Parking is available at the Kentucky Expo Center for a fee. The fees are $30 per day for trucks, $8 per day for passenger vehicles and $50 per day for spots with hook-ups. Spots with hook-ups must be reserved.