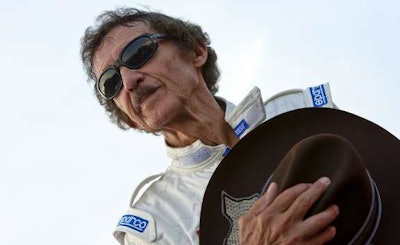 Richard Petty, who won seven NASCAR championships and 200 races, will appear at the Mid-America Trucking Show at the Kentucky Exposition Center in Louisville, March 22-24.
Petty, nicknamed "The King", will sign autographs and pose for photos from 10 a.m. until 1 p.m. Thursday, March 22, at the Mack Trucks booth 34105 in the south wing of the Expo Center. Those attending MATS can enter for a chance to win a Richard Petty Driving Experience.
Petty's father Lee was a successful NASCAR driver. Richard Petty began his NASCAR career shortly after his 21st birthday in 1958 and was named NASCAR Rookie of the Year in 1959. He retired in 1992, and was inducted in the first class of the NASCAR Hall of Fame in 2010.
Show Hours:
March 22 VIP: 10 a.m. – 1 p.m.
March 22: 1 p.m. – 6 p.m.
March 23: 10 a.m. – 6 p.m.
March 24: 9 a.m. – 4 p.m.
Show Location:
Kentucky Expo Center, 937 Phillips Lane, Louisville, Kentucky 40209
Registration:
Registration is available online for $10 or tickets can be purchased at the door for $10.
Parking:
Free truck parking is available at Papa Johns Cardinal Stadium. A free shuttle service will be on site to take truckers from the parking lot to Kentucky Expo Center, and back. The truck parking lot will open March 21 at 7:30 a.m. and stay open through March 24 at 6 p.m. Trucks must enter the parking lot through Gate D. The GPS address for Gate D is: 4146 Park Boulevard, Louisville, Kentucky 40209.
The stadium has 3,000 passenger vehicle spots available. Parking is available at the Kentucky Expo Center for a fee. The fees are $30 per day for trucks, $8 per day for passenger vehicles and $50 per day for spots with hook-ups. Spots with hook-ups must be reserved.