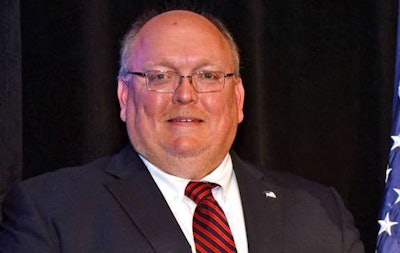 A veteran company driver for Holland recently received the Commercial Vehicle Safety Alliance 2018 International Driver Excellence Award award.
"After my company nominated me, I read the impressive bios of the previous winners and I did not think I belonged in that group," said Herschel Evans, who has driven more than 3 million miles over 30 years; 25 of those years with Holland. "I feel extremely honored to be selected."
Launched in 2015, IDEA recognizes commercial motor vehicle drivers who distinguish themselves through the achievement of safe operation and compliance carried out with distinction for an extended period of time.
"Herschel is an exceptional model for what a professional driver should be," said Holland President Scott Ware, who nominated Evans for the award. "His unquenchable desire for great safety and his need to share his safety message make him a key participant in our organization's safety efforts. He is committed to protecting himself and all those who share the road with him."
Evans is no stranger to being on stage to receive recognition for his work. In 2013, Evans became the first person from Holland to be selected by the American Trucking Associations as an America's Road Team Captain. In 2012, he was honored with the Destination Green Environmental Excellence Award for his efforts toward environmental sustainability. He was also honored by ATA in 2017 with the Mike Russell Trucking Image Award.
In 2006, Evans was named Rookie of the Year and won the Grand Championship at the Georgia Truck Driving Championships. He is a two-time five-axle champion (2008 and 2011) at the National Truck Driving Championships and a four-time five-axle champion (2006, 2008, 2011 and 2012) at the Georgia Truck Driving Championships. In 2012, Evans earned the title of Georgia Driver of the Year at the Georgia Truck Driving Championships. In 2017, Evans earned first place in the sleeper category at the Georgia Truck Driving Championships and was part of the winning team that was presented with the 2017 Clifford Williams Award for Small Team.
Evans also is the driving force behind the Safety Drive for a Cure Truck Safety and Skills Competition benefiting the Pediatric Brain Tumor Foundation. Hundreds of drivers travel from across the country to compete in the Safety Drive for a Cure, improving their safety skills while supporting advocacy and service.
Evans has also donated his time and services to the Convoy of Care, helping to deliver critical supplies to families affected by major natural disasters such as the flooding in Baton Rouge, Louisiana, in August 2016, tornado victims in southern Georgia in February 2017 and the flood victims in Houston, Texas, in August 2017.
Evans was presented with his award earlier this month at the CVSA Workshop in Portland, Oregon.
The 2019 IDEA nomination form will be posted in the fall of 2018.