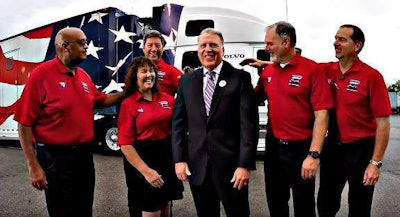 The American Trucking Associations' Board of Directors today elected Dave Manning, president of TCW Inc., Nashville, Tennessee, as the organization's new chairman.
Manning replaces Kevin Burch, president of Jet Express Inc., as chairman.
Manning has been an executive with TCW since 1985, helping grow the company from a single terminal to a diversified transportation firm with more than 600 employees across the southeastern U.S.
Manning has been active in the ATA federation for many years, including chairing ATA's Intermodal Carrier Conference and working with the Tennessee Trucking Association as chairman of the state association's political action committee.
"It is a tremendous honor to be elected by my fellow ATA members as their chairman for the coming year," Manning said. "I look forward to continuing the work of immediate past Chairman Kevin Burch, and all my predecessors as we work to build a bright future for our industry."
In addition, the board elected Barry Pottle, CEO of Pottle's Transportation, as ATA first vice chairman and Randy Guillot, president of Triple G Express Inc. as ATA second vice chairman. The board also elected Sherri Garner Brumbaugh, president and CEO of Garner Transportation and Harold Summerford Jr., CEO of J&M Tank Lines Inc., as ATA vice chairmen.