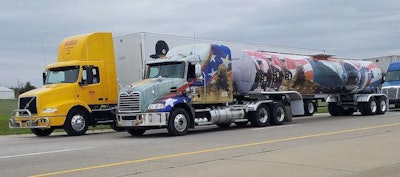 The annual Truck Convoy for Special Olympics in Des Moines, Iowa raised over $40,000 for Special Olympics Iowa Oct. 21.
There were 145 trucks registered for the event and 111 participated in the convoy. The trucks drove from Veterans Parkway to the Iowa State Fairgrounds. Special olympics athletes were able to ride in the trucks as part of the convoy.
"It gives our athletes the opportunity to ride in a semi. They love to get in with the trucks and honk the horns and see what the big rigs are like and drive down the roads," said Jeanette Steinfelt, one of the event's organizers.
The Iowa Motor Truck Association and Niece Trucking/Niece Express sponsored the event. Don Eglir, IMTA's director of safety and security, drove in this year's convoy. He said he looks forward to participating in the convoy each year.
"It's one of the highlights of my year," Egli said.