A Canadian convoy in support of Special Olympics later this month will also celebrate the life and career of Darrell Ward, a star of "Ice Road Truckers," who died in a light plane crash late last month.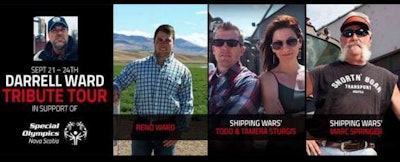 The World's Largest Truck Convoy is Sept. 21 to 24 in Nova Scotia, Canada and includes the Darrell Ward Tribute Tour. Ward was supposed to have served as this year's convoy marshal.
It begins in Moncton, New Brunswick, on Sept. 21 and continues to Halifax/Dartmouth on Sept. 24. Special guests include:
The convoy is a celebration of the trucking industry and raises funds for, and showcases the athletes of Special Olympics Nova Scotia.