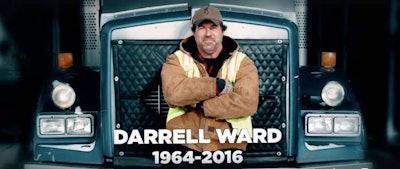 A private memorial service for "Ice Road Truckers" star Darrell Ward will be held Saturday in Deer Lodge, Montana.
Ward died Sunday, Aug. 28 when the light plane he was a passenger in crashed near a small, rural airport. He had just returned from the Great American Trucking Show in Dallas.
The crash happened around 3 p.m. Sunday when the Cessna 182 piloted by 56-year-old Mark Melotz from Arlee, crashed while trying to land at the small air strip just east of Rock Creek on I-90.
The National Transportation Safety Board has a team investigating the crash.
The first episode of "Ice Road Truckers" to air since Ward's death is scheduled to be broadcast tonight on the History Channel at 10 p.m. Eastern, 9 p.m. Central. Check local listings.
The History Channel posted this tribute to Ward: