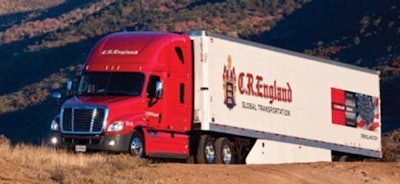 C.R. England drivers who have passed the CDL skills test but have not yet returned to their home state to obtain their CDL can continue to operate as team drivers rather than having a CDL holder in the front seat at all times following the extension of a regulations exemption.
The Federal Motor Carrier Safety Administration announced the extension of the exemption in a Federal Register notice set to be published Friday. The exemption is effective through June 12, 2022. FMCSA has granted similar exemptions to other fleets in recent years, including New Prime and CRST.
The agency renewed the exemption in June, but held a public comment period for a month after the announcement. After receiving the comments, FMCSA reaffirmed its decision to renew the exemption.
FMCSA says comments received in opposition stated the commercial learner's permit holders who had passed the CDL skills test were too inexperienced and are safer with CDL holders in the front seat. The agency argues that had the drivers been in their home state when they passed the skills test, they would have already obtained a CDL, and could drive on their own with no one in the truck with them.