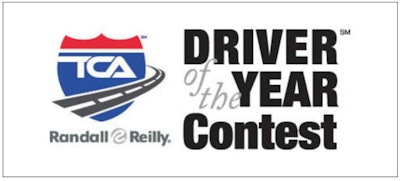 Wilson Logistics driver Don Lewis stepped into the cab of a truck for the first time when he was 14 years old and helping his dad take a load of cattle to a sale barn. He says that's when he first got the "bug" for trucking, something that was only reinforced when he took a job out of high school that involved driving trucks for a feed mill.
However, when he finally became a professional driver in 1979, he never imagined he'd still be at it 39 years later. It's lucky for trucking, though, because in the nearly four decades Lewis has been on the road, he's made quite an impact.
"It's not often you can shake the hand of a professional driver and know there's more than 5 million accident free miles in his grip," says Mike Tettamble, the director of safety at Wilson Logistics.
Along with those 5 million safe miles, Lewis has trained more than 40 drivers as a NATMI certified driving instructor and placed in the state truck driving championships. He's been Wilson Logistics' Company Driver of the Year and Missouri's Driver of the Month and has won the Safe Driving Award from Great West Insurance. With a resume like that, it's no wonder he's been named a finalist for the 2017 Company Driver of the Year Award, which is presented by Truckload Carriers Association and Truckers News, and sponsored by Love's and Cummins.
When Lewis isn't behind the wheel of his truck, he enjoys golfing, hunting, and fishing when he has the time, and his time in nature has given him a special appreciation for how important it is to take care of it. Because of that, Lewis has become very particular about the way his truck is driven and maintained.
"The environment is so important," Lewis says. "I do everything that I can to help keep the air that we breathe free of toxins. I do not idle my truck unnecessarily. I keep a close eye on my equipment. If I have even the smallest of fluid leaks, the truck is taken immediately to a shop for repair. Even my personal vehicle — if there's a little drop of oil on the driveway, I'm underneath it, looking to see where it's coming from. If it's something I can fix, I do it, and if not, I take it in."
Lewis says he hopes his example and actions will protect the natural beauty of his country so that his grandchildren and great-grandchildren can enjoy it as much as he does.
Spending time with his family is important to Lewis, and he says he's thankful that his current dedicated route allows him to be home with his wife every evening and on the weekends. He uses some of that time to work on a 1969 Ford Ranger pickup truck with his brother and oldest son. With that restoration nearing completion, he's already eyeing a 1948 Chevy panel truck to take on as his next project. He's also helping his son restore his own 1970 Dodge Charger.
Lewis says he is excited to have his wife join him in Florida when the 2017 Company Driver of the Year is announced. The award carries a $25,000 prize and will be presented at TCA's annual convention in Orlando on March 27.
"I'm very honored to be in this position," Lewis says. "This is the highest recognition that a driver could ever hope for in my opinion. I just do what I know how to do and stay as safe as I can. I don't look for recognition on anything."