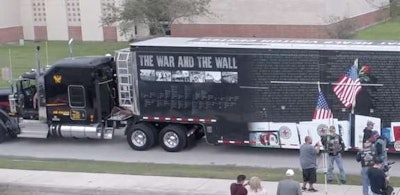 An Indiana trucking company will host a replica of the Vietnam Veterans Memorial, along with a mobile education center for several days next month.
The Wall That Heals will be at Baylor Trucking's headquarters in Milan Sept. 5, through Sept. 9. It will be open 24 hours each day and is free to the public.
The Wall That Heals honors the more than 3 million Americans who served in the military during in the Vietnam War and bears the names of the more than 58,000 men and women who died in the war.
Baylor Trucking is among the first to host the new, larger exhibit which includes a three-quarter scale wall replica that is 375 feet long and 7.5 feet tall at its tallest point. With the new replica, visitors will be able to do rubbings of individual service member's names on The Wall.
The 2018 national The Wall That Heals tour is hauled through a partnership with the Truckload Carriers Association and the trucking industry and sponsored by USAA, FedEx, and GEICO.