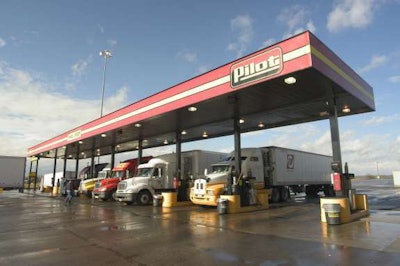 In honor of National Driver Appreciation Week, Sept. 9–15, Pilot Flying J is partnering with the American Trucking Association on an educational outreach program. The initiative is designed to raise greater awareness of the trucking profession and professional drivers' contributions to the nation's economy.
Pilot Flying J will celebrate professional drivers throughout the month of September starting with a $60,000 donation to the ATA's Trucking Cares Foundation to help support professional drivers and the future of the industry. Pilot Flying J will also reward drivers all month long through its annual 100 Million myRewards Points Giveaway and 30 days of free offers in the myPilot app.
"Hardworking professional drivers make countless sacrifices to keep our economy moving and our ways of life possible," said Ken Parent, president of Pilot Flying J. "As we face a growing driver shortage, our hope is that this contribution will help support the Trucking Cares Foundation's mission to improve the safety, security, and sustainability of the trucking industry."
In addition to driving awareness and appreciation of professional drivers, Pilot Flying J is thanking them throughout September with money-saving offers and giveaways. Pilot Flying J is giving away one free item each day in the myPilot app, including a free slice of PJ Fresh pizza and popular drinks and snacks. Pilot Flying J Truck Care is also providing free mid-trip inspections to help drivers and trucking companies prepare for Commercial Vehicle Safety Alliance's (CVSA) Brake Safety Week.
Pilot Flying J will award prizes to more than 60,000 professional drivers, including 2,000 daily winners, during the 100 Million myRewards Points Giveaway. To enter drivers can swipe their myRewards loyalty card when purchasing diesel fuel at a participating Pilot or Flying J Travel Center.