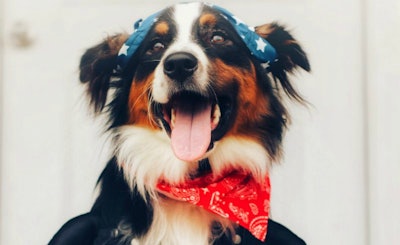 Some truckers' PETS are getting ready for Halloween next week. (You can see them here!) Does your dog, cat, ferret, iguana have a costume picked out?
Overdrive and Truckers News want to see photos of your pets in costume! Do you dress your cat as Dracula? Or your dog as a teddy bear? Or maybe your bird is going to be a pumpkin this year. Take a picture of your costumed furry or feathered friend and submit it using this form, and your photo may be featured in Overdrive. Get your photo in as soon as possible as the deadline is Nov. 1. Have a fun and spooky Halloween!
Iowa 80 is donating a free pet wash at their DogOmat Pet Wash for the winners of the cutest Halloween pet costume contest.
Heather DeBaillie, marketing manager for CAT Sale company/Iowa 80 Group says their locations welcome truckers and their furry companions. "We know your pets mean the world to you, so we invite you to Pamper Your Pooch at Iowa 80! If your furry travel companion could need a little sprucing up, you can get them cleaned and smelling fresh at the DogOmat Pet Wash on site. Pet food, leashes, food and water bowls, toys and more are available in the newly expanded Iowa 80 convenience store. Iowa 80 also offers plenty of areas for you and your pets to stretch your legs outdoors around the property," she says.
Show us your Halloween pet pix.