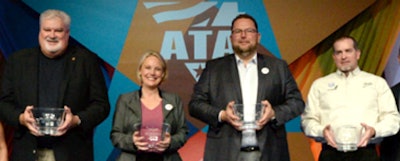 What do a FedEx Freight driver, a state trucking association, a major carrier, a large truck stop chain and a truck driver charity have in common?
They all were recognized earlier this week with the Mike Russell Trucking Image Awards. The awards honor trucking's champions of image, professionalism and safety, and recognize individuals and groups that use innovative approaches to improve the image of the trucking industry.
The awards were presented at the American Trucking Associations' Management Conference & Exhibition in Austin, Texas. This year's winners are:
The Tennessee Trucking Association Foundation for their partnership with state transportation offices to develop statewide educational and medical programs aimed at the safety and well-being of senior drivers.
Werner Enterprises Inc. for creating a culture of pride in their organization and support of their employees, which in turn creates positive ambassadors for the trucking industry. And for their support of veterans and current military members and their participation in the Susan G. Komen Race for the Cure events.
Pilot Flying J for creating a positive image of truck drivers and the company's prolific record of community involvement, including fundraising for United Way and Wreaths Across America. Pilot Flying J is also recognized for their steadfast dedication to creating a positive image of the industry through their support of Trucking Moves America Forward.
America's Road Team Captain and FedEx Freight professional truck driver

Don Logan

for his tireless work toward creating a positive culture within the trucking industry and demonstrating the positive role of the industry to external audiences.
Honorable Mention: ATA recognized St. Christopher's Fund for providing more than

$2.3 million

in assistance to 2,336 over-the-road and regional drivers and their families when illness or injury has caused the driver to be out of work.
The Mike Russell Trucking Image Awards are named in honor of the late Mike Russell, a trucking industry supporter and former ATA vice president of public affairs, and are sponsored by HireRight.