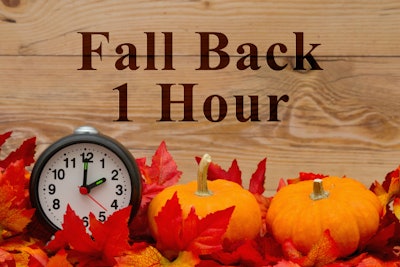 Yep, it's that time of year again.
At 2 a.m. on Sunday you need to move your clock back an hour as Daylight Saving Time comes to an end for another year. (Actually, you can just set your clock back an hour when you go to bed.)
President Franklin D. Roosevelt implemented year-round daylight saving time during World War Two. It was known as "War Time."
During the 1973 oil embargo by the Organization of the Petroleum Exporting Countries, something truckers remember all too well, Congress enacted a trial period of year-round daylight saving time from Jan. 6, 1974, to April 27, 1975. They thought it would conserve fuel.
The day we all fall back has also become a day when we're all supposed to change the batteries in our carbon monoxide and smoke detectors.
Daylight Saving Time isn't observed in Arizona, Hawaii, American Samoa, Guam, the Northern Mariana Islands, Puerto Rico, and Virgin Islands.
President Lyndon Johnson signed the Uniform Time Act into law in 1966. Oddly enough, the Department of Transportation is the keeper of daylight saving time.