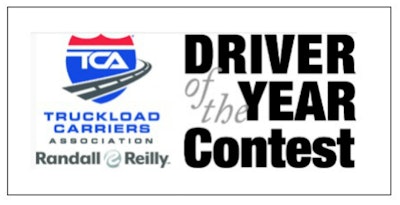 Editor's Note: Two men and a woman are finalists for the Company Driver of the Year Award presented by the Truckload Carriers Association and Truckers News. The winner is announced Tuesday, March 11 during the annual awards banquet of the TCA convention at the Wynn Las Vegas Resort. The winner receives $25,000. The two other finalists receive $2,500 each. The award is sponsored by Love's Travel Centers and Cummins, Inc. Meet one of the finalists.
Don Lewis, admits he's a bit surprised he's been on the road as a professional truck driver for 40 years. But, he's glad he has been.
"Being a professional truck driver has been very rewarding for me," said Lewis, who drives for Wilson Logistics, of Springfield, Missouri. "When I started out 40 years ago, I had no clue I would still be driving today.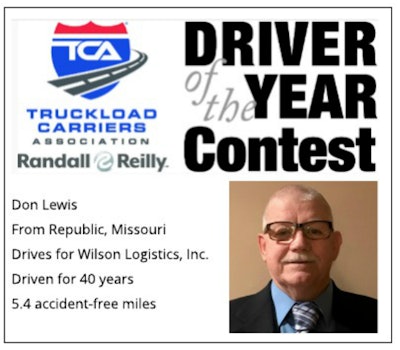 Along the way, the Republic, Missouri resident las logged 5.4 million accident-free miles and compiled a long list of awards. In fact, he was a finalist for the TCA/Truckers News Company Driver of the Year Award a year ago. The rest of his honors include:
2004 – Company Driver of the Year

2011 – Company Presidential Award

2011 – Third Place State Truck Driving Championships Sleeper Berth Division 2015 – Great West Casualty Safe Driving Award

2016 – Missouri Driver of the Month – April

2017 – Missouri Driver of the Month – July
And, he hopes to add another honor to this list: "Being named the 2018 Company Driver of the Year would certainly be a giant exclamation point for my career," he said.
Lewis credits the recognition, his lengthy career and outstanding safety record to his outlook.
"I heard early on in my career once that, chance favors the prepared mind," said Lewis. "Always be ready. Seize the moment. That really stuck with me. Took a while to fine tune it, but I believe it has really made a difference in setting me apart from my peers."
But there's more. Lewis is aware that he's not alone on the road and that in order to be respected, he has to give respect as well. "Treat people like you would like to be treated, and generally respect and appreciation by others follows," he said.
Lewis also tries to set a good example. He said he feels responsible for helping improve the image of truckers and the industry as a whole. Lewis said he dresses professionally, keeps his truck clean and operating properly and engages in self-improvement.
Part of his attention to his image also means staying healthy. Lewis admits it's not always easy to do being on the road as much as he is, and he has no extensive workout routine or diet.
"I don't lift weights or drink protein shakes," said Lewis. "I don't sit in a sauna after jogging miles. But I do make it a practice to walk every day, do a little stretching when I get up in the morning, and, prior to all of that, get a solid night's rest so that I can take on the day, or night, and be as safe as I can be every mile of every trip."
Lewis said he packs healthy food from home before he hits the road. He said he avoids too many carbohydrates, which he said can make you fatigued while driving. He packs plenty of fresh fruits and vegetables.
Lewis' attention to his outlook, his health and his role in the company and the industry have not gone unnoticed.
"As a business owner, I couldn't be prouder to have such a professional representing our business out over the road," said Darrel Wilson, CEO of Wilson Logistics. "The simplest word to summarize who Don is as a professional driver and his career is, remarkable. Don's personality, professionalism, and commitment to safety is to be remarked upon as a true professional company driver."
Mike Tettamble Jr., director of safety at Wilson Logistics, was equally complimentary of Lewis.
"I have known Don Lewis for 17 years," said Tettamble. "We have grown together professionally. He has assisted some 40 entry level drivers entering the industry to become safe and successful career worthy professional drivers. Don's training and technical skills are second to none."
Tettamble added that Lewis "is truly the image of a professional truck driver. We could use a couple hundred more just like him."
The other two finalists for the Company Driver of the Year Award are:
David McGowan, from Marinette, Wisconsin, and drives for WEL Companies, Inc., of De Pere, Wisconsin

Ester Nemeth, from Winnipeg, Manitoba, Canada, and drives for Bison Transport, also of Winnipeg
TCA and Truckers News' sister publication Overdrive will also announce an owner-operator of the year. Those three finalists are:
Danny Jewell, is from Nebraska City, Nebraska, and is leased to Warren Transport, Inc. of Waterloo, Iowa

Kevin Kocmich, is from Litchfield, Minnesota, and is leased to Diamond Transportation System, Inc. of Racine, Wisconsin

Robert Roth, is from Coldwater, Ontario, Canada, and is leased to Erb International of New Hamburg, Ontario, Canada
The finalists and grand prize winners are selected based on their ability to operate safely on public highways, their efforts to enhance the public image of the trucking industry, and their positive contributions to the communities in which they live.