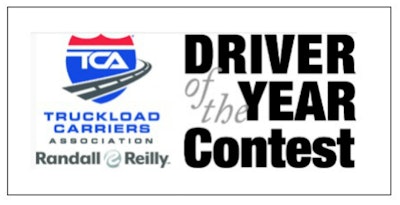 Editor's Note: Two men and a woman are finalists for the Company Driver of the Year Award presented by the Truckload Carriers Association and Truckers News. The winner is announced Tuesday, March 11 during the annual awards banquet of the TCA convention at the Wynn Las Vegas Resort. The winner receives $25,000. The two other finalists receive $2,500 each. The award is sponsored by Love's Travel Centers and Cummins, Inc. Meet one of the finalists.
David McGowan has seen trucking from both sides. During his 44 years on the road, he has been both an owner-operator and a company driver. While driving more than 6.5 million miles the Marinette, Wisconsin resident has no violations, no tickets and not been placed out of service. And, he has received considerable recognition for his approach to safety including 20 awards from his employer, WEL Companies, Inc. of De Pere, Wisconsin.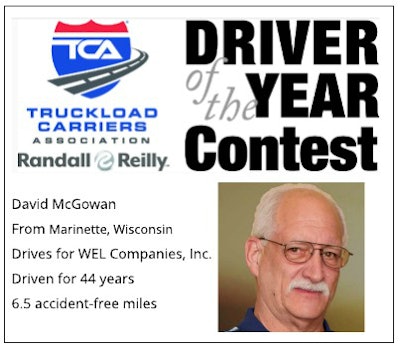 In addition, McGowan attended WEL's All Star Banquet 10 of 11 years and was the Wisconsin Motor Carrier Association's Driver of the Month for December 2015. And, this will be his third nomination as the TCA/Trucker's News Driver of the Year. He previously was nominated in 2015 and 2016.
McGowan's dedication to safety and willingness to help others began early in his career. He said he drove for Schneider and became a trainer with three years experience when the company opened its driving school.
"I am always willing to lend an ear to those new and old to the industry as I just want others to be successful," said McGowan, who was an owner-operator for WEL from 1989 until he became a company driver in 2010. "I have a passion to help others learn what I have learned over the years. When helping others the only thing I ask for in return is that they pay it forward and help others."
One of the things McGowan said has made him successful over the years is patience.
"I, myself, am patient when I am out on the road, and I don't let things bother me that I have no control over," he said. "Heavy traffic, extreme weather, waiting to get loaded or unloaded at docks are a few situations that will challenge the patience of the best drivers, but having patience while out on the road is a must."
McGowan also said a successful driver also needs to know how to manage the clock.
"Time management skills and knowing how to spend your time on the road is a necessity," said McGowan. "Being early to appointments and giving yourself time to get to the customer is always beneficial."
He added, drivers are always on a deadline and they must make their delivery dates and times.
Time management skills are also important when it comes to wellness, according to McGowan.
"It is often difficult to find time on the road when you have a busy schedule to prepare a good meal," he said. "But we all have the same goal of being around long enough to enjoy time with our family and loved ones."
Equally important is to "keep stress at bay," said McGowan. "Always focus on what is in your control. You should only concentrate on your attitude and actions."
McGowan's bosses at WEL Companies are impressed with how he has performed in his long career.
"Dave continues to strive to be safe and cautious on the road," said Chris Tielens, president of WEL Companies. "We continue to be proud to call Dave a member of the WEL Companies family."
Gloria Srenaski, director of safety in WEL, said, "Dave is a hero. He has served his country in the U.S. Army and he is also a hero in the trucking industry. We are proud to have Dave in our WEL family."
The other two finalists are:
Don Lewis, is from Republic, Missouri, and drives for Wilson Logistics, of Springfield, Missouri

Ester Nemeth, is from Winnipeg, Manitoba, Canada, and drives for Bison Transport, also of Winnipeg
TCA and Truckers News' sister publication Overdrive will name an owner-operator of the year. Those three finalists are:
Danny Jewell, is from Nebraska City, Nebraska, and is leased to Warren Transport, Inc. of Waterloo, Iowa

Kevin Kocmich, is from Litchfield, Minnesota, and is leased to Diamond Transportation System, Inc. of Racine, Wisconsin

Robert Roth, is from Coldwater, Ontario, Canada, and is leased to Erb International of New Hamburg, Ontario, Canada
The finalists and grand prize winners are selected based on their ability to operate safely on public highways, their efforts to enhance the public image of the trucking industry, and their positive contributions to the communities in which they live.