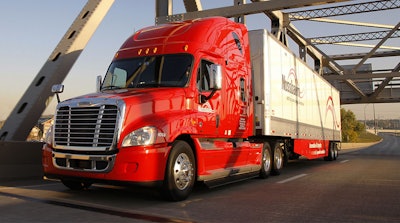 Prime, Inc. and Nussbaum Transportation were named the overall Best Fleets to Drive For by the Truckload Carriers Association and CarriersEdge Monday at TCA's 2019 Annual Convention in Las Vegas.
Nussbaum, based in Hudson, Illinois won in the small fleet category. The carrier operates 400 trucks. TCA said the carrier's driver scorecard and mobile app, as well as a career path and driver certification program, propelled Nussbaum to the award. The small fleet category is sponsored by DMC Insurance.
The Springfield, Missouri-based Prime, Inc., won in the large fleet category. The carrier operates upwards of 7,000 power units. TCA attributed its win to the carrier's committees, social groups and educational opportunities that contribute to personal and professional development for its drivers. The large fleet category is sponsored by EpicVue.
Now in its 11th year, the Best Fleets contest is based on driver surveys and interviews conducted by CarriersEdge and seeks to recognize for-hire trucking companies that provide the best workplace experience for drivers.
Fleets must be nominated by either a company driver or independent contractor, and then nominees are evaluated based on a range of categories.