Lat Saturday afternoon, a gate agent for American Airlines at the Louisville airport was explaining to disappointed passengers of a canceled flight that the airline could not provide overnight accommodations, "Because of some big truck show in town."
That "big truck show" was, of course, the 48th annual Mid-America Trucking Show, which was wrapping up at the Kentucky Expo Center as that forlorn gate agent was breaking the bad news to passengers. As in the past, the show had been one part education, one part entertainment, one part custom truck show, and one part shopping.
In case you couldn't make it to Louisville this year, here's a recap of some of the things you missed.
Secretary Chao announces possible change to hours of service
Secretary of Transportation Elain Chao delivered some potentially good news for truckers at MATS. Speaking Friday afternoon, Chao said her department intends to propose a rule that would change federal hours of service regulations for truck drivers. While Chao said she could not provide any specifics as to what's in the rule or when it will be published, she did say, "But let me note: The Department understands the strong interest in increasing flexibility and is giving it serious consideration." A power outage hit right as hao's speech began, followed by an emergency warning over a PA system that forced her to pause her speech.
CDL Drug and Alcohol Clearinghouse explained
Also at MATS, Joe DeLorenzo, director of enforcement and compliance of the Federal Motor Carrier Safety Administration, said drivers will have to register with the agency's new CDL Drug an Alcohol Clearinghouse. The clearinghouse will record all drug test failures conducted for pre-employment screenings, random drug tests, and post-crash tests, said DeLorenzo. Carriers will be required to submit failed tests to the clearinghouse, and they'll be required to query the database before hiring drivers to ensure they haven't failed a drug test in the previous three years.
Trucker honored for highway heroics
MATS was a place to recognize the good that truckers do. Two companies honored drivers during the show. Paul Mathais, a Navy veteran from Arizona, was named Goodyear's 36th Highway Hero during ceremonies Thursday, March 28. He was recognized for aiding a family who had been involved in a serious accident in Phoenix.
Three drivers recognized as good citizens
On Friday, TA Petro recognized three drivers with its annual Citizen Driver Awards. Honored were Steen Gronlund, a company driver for Mile Hi Foods, and Kenn and Elizabeth Zelten, owner-operators leased to Landstar.
TA Petro performed some good citizenship of its own during the show. TravelCenters of America, TA Petro's parent company, donated 112,946 to the Truckers Against Trafficking organization.
Showgoers got to see a lot of trucks
If you wanted to see trucks — new trucks, old ones, custom ones — MATS was the place to be.
A popular feature of Peterbilt's display was its 579 with the Darth Vader-look Blackout exterior package. Folks staffing the booth said folks either loved or hated the look, and the those who favored it tended to be younger truckers.
Also at the show were three of Kenworth's W990s, which rolled out late last year. Entered in the PKY Truck Beauty Championship were W990s owned by Eagle Eye Produce of Idaho Falls, Idaho; Taylor Transport of Cartersville, Georgia; and Justus Truck Lines (Hendersonville, North Carolina.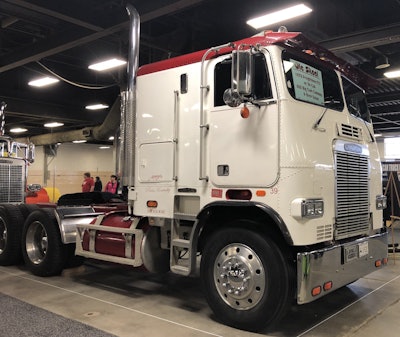 Occupying a prominent place just inside one entrance at the show was the Kenworth "Everyday Heroes" T680 that will be auctioned off to raise money for Truckers Against Trafficking.
As always, the PKY Truck Beauty Contest drew a number of custom show trucks. And, inside the exhibit halls were several dozen vintage trucks owned by members of the America Truck Historical Society.
Trucking's promotional efforts updated at MATS
During the show, the Trucking Moves America Forward image enhancement campaign delivered an update on its progress. In its five years, the campaign has attracted 200 donors and 3,410 subscribers. It also has 240 trailer wraps on the road, generated more than 344 million advertising impressions, more than 200 earned media placements totaling 162 million impressions.