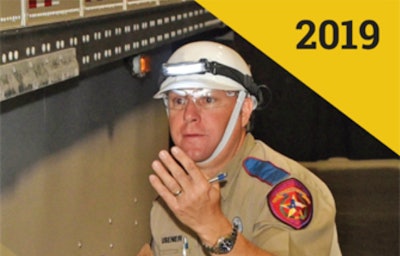 The Commercial Vehicle Safety Alliance's updated its out-of-service criteria for 2019. It took effect Monday, April 1, with several changes to the criteria from the previous version. The handbook details the criteria by which drivers and vehicles can be placed out-of-service at roadside.
The North American Standard Out-of-Service Criteria is the pass-fail criteria for roadside inspections that is updated annually.
Print and electronic PDF versions of the 2019 edition of the handbook are available for purchase through the CVSA online store.
The 2019 out-of-service criteria app is available by searching "CVSA" in the Apple or Google Play stores.
Among the changes made for 2019 are:
Modifying the language to Part I, Item 4: Driver medical/physical requirements, Skill Performance Evaluation Certificates. The language was modified to clarify that drivers who possess a valid SPE but are not complying with the SPE requirements should be placed OOS.
Adding language to Part II, Item 1: Brake systems, brake drums and rotors to clarify that if there are cracks through the vents in rotors, a collapse of the rotor is imminent, and the truck should be placed OOS. The modification also adds a picture of cracks in structural supports of a brake rotor.
Adding defective condition language to Part II, Item 2: Cargo securement, Tiedown Defect Table for the Doleco USA Textile Link Tiedown Assembly. The added language will help inspectors determine if the Doleco tiedown is defective when in use.
Adding a bearing strap to the out-of-service condition for Part II, Item 4: Driveline/driveshaft, Universal joint. A broken bearing strap would have the same imminent hazard as a missing, broken or loose retainer bolt.
Adding an OOS condition for a missing driver's seat to Part II. Drivers using a temporary seat rather than a permanent seat secured to the vehicle in a workmanlike manner was added to the criteria.
Adding an OOS condition to Part II, Item 10: Steering mechanisms, Tie rods and drag links for a non-manufactured hole. A non-manufactured hole in a drag link should be placed OOS.
A full list of changes to the handbook can be seen here.