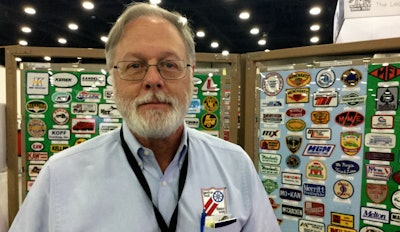 Dale Bridge is an historian. Not a conventional scholar who haunts the dusty shelves of obscure institutions seeking arcane facts about mostly long-forgotten figures in the murky margins of the past.
Instead, the Oswego, Illinois resident spends much of his time piecing together a graphic narrative of the trucking industry. From his home in suburban Chicago, Bridge seeks bits of trucking history that many people probably saw in passing, often on a daily basis, but took little notice of them.
Bridge has what may be the largest collection of woven or embroidered patches created for trucking companies, many of which have long since parked their last trucks for good. There are also many from carriers still on the highway.
He was at the Mid-America Trucking Show in Louisville last week. He had a fraction of his collection on display — 300 of the 4,500 patches he has collected and expects to donate to a museum eventually. And, he was actively seeking to add to the collection.
His interest in trucks stems from his work for one of the major manufacturers in U.S.
"My family worked for International Harvester," said Bridge, who was at several I.H. plants during his 40 years with the company. "My three brothers, my father, and my grandfather. By the time I retired, we had 80 years of continuous family service and (a total of) over 120 years of family service."
Seeing the trucks on the assembly line inspired Bridge to start building trucks of his own, plastic model trucks. But, he said he knew he would be moving because of his job with I.H. "and they don't move very well."
That was when he started writing to trucking companies asking if they had fabric patches that often were sewn onto hats, jackets or uniform shirts many company drivers wore. Bridge said many carriers responded and sent him a patch, and thus the collection began.
During MATS, Bridge said a number of truckers had stories to tell as they wandered through his display. He said he understands these patches trigger memories for many of them.
"So all of this brings back memories to a lot of people who were old truckers," said Bridge. "They see the company they drove for, they remember who they forgot. And, that's the key thing here in our age, we forget a lot. OK? And, this is my effort to at least bring back some good, some bad."
Most of the patches are identified and some have explanations under them. If there is red type on the explanation, it signifies the company is no longer in business, according to Bridge. And, there is a lot of red ink on his display.
Many of the so-called "fallen flags", companies that went out of business, were victims of the deregulation of the industry. As many as 60 percent of the companies represented by their fabric logos were victims, he said.
"At least that," said Bridge "Every winter I update it statistically, and about 60 percent of these are out of business (primarily) from deregulation."
The oil embargo of 1973-74 didn't help either. And, then there was the change to the overall length of rigs. He said many carriers suffered financially because they couldn't get rid of all their cabover trucks.
Today, said Bridge, trade uncertainty is hurting companies. So are some of California's stricter trucking laws, he added.
Still, he contacts trucking companies of all sizes asking if they have logo patches. Some do, and others have images silkscreened onto hats or jackets instead of having patches sewn on. Even that aspect of trucking has changed, he said.
Bridge expects that one day the collection will be donated to a museum like the one maintained by the American Truck Historical Society or the truck museum at the Iowa 80 truck stop.
Have a logo patch to add to Bridge's collection? You can email him at dwbridge@outlook.com .