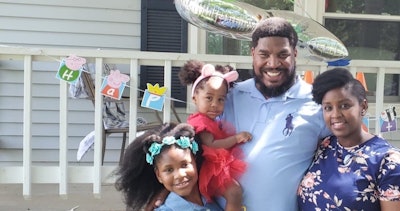 Serving 13 years in the United States Army taught truck driver Dwight Arnold discipline, independence and leadership. Now as a lease contractor and driver trainer with Stevens Transport, Arnold continues to utilize those skills.
Arnold is one of 11 finalists for the 2019 Mike O'Connell Award for Trucking's Top Rookie. The award is presented by Truckers News at the Great American Trucking Show in Dallas next week.
He joined the Army in April 2001 and served until August 2014. During that time he served as an ammunition handler, ammunition specialist, military recruiter, training event coordinator, and special unit transportation supervisor, reaching the rank of sergeant.
After exiting the military Arnold found himself feeling caged in within the office environment and he wanted to try something new that would be challenging but allow him to provide for his family. He began researching trucking and fleets and thought it seemed like a good. fit. He's now a lease contractor with Stevens Transport running a dedicated Kraft account.
Arnold chose to become a lease contractor because "it gives you a chance to learn what it takes to manage a business for yourself, not as a driver but as an owner," he said.
Arnold's experiences in the military helped prepare him for trucking because "it allows you to be flexible. It allows you not to stress over changes that happen over the road whether in traffic or timeframe. I'm used to being able to get the job done no matter what it is."
Specifically, his experience as a recruiter helped prepare him to be a driver trainer. As a recruiter he took civilians and helped them onboard with the military. As a driver trainer, he similarly helps people adapt to the trucking lifestyle.
"When I train people I understand that they're not coming from a trucking background and this is going to be a brand new transition in their life. There's a lot going on for them," Arnold said. "They're living on a truck, living on the road, not seeing their families, not speaking to them on the phone for long periods during driving. So I have to understand their frustrations and their worries and slowly but surely coax them into a comfort level, not just with me but with the truck and the road, and at the same time give them as much advice as possible about the trucking industry for their future."
Arnold's goals for his trucking career include managing his own fleet of 4-5 trucks and building financial stability within his family.
"I want a chance to learn so that my family can one day have a small business of our own and I can show my children that kind of hard work and have them understand what it takes to run a business so when they grow up they can do the same," said Arnold, a father of three daughters.
The Mike O'Connell Award for Trucking's Top Rookie will be presented at the Great American Trucking Show Friday, Aug. 23 at 2 p.m. on the Truckers News Stage in Hall "A" of the Kay Bailey Hutchison Convention Center in Dallas. Registration for GATS is free online in advance of the show.
The winner receives $10,000. They also receive a prize package worth $530 from the RoadPro Family of Brands, which includes a RoadKing Noise Cancelling Bluetooth Headset, LUMAGEAR Headlamp, PowerDrive 1000 Watt Bluetooth Pure Sine Wave Power Inverter, BlackCanyon 64 oz. water bottle, BlackCanyon Large Duffle Bag, MobileSpec Qi Wireless Charging Mount, and RoadPro 12 Volt Soft Side Cooler. The winner also receives a ClearDryve 200, Rand McNally's premium noise-cancelling 2-in-1 headphones with removable ear pieces and adjustable boom mic and the current Deluxe Motor Carriers' Road Atlas.
The other 10 finalists receive $1,000, a RoadPro Family of Brands MobileSpec Qi Charger, and Rand McNally's ClearDryve 200.
The Top Rookie award is presented by Truckers News with the support of the Commercial Vehicle Training Association, National Association Of Publicly Funded Truck Driving Schools, and Professional Truck Driver Institute.
Recognizing the top rookie driver was the idea of the late Mike O'Connell, who was formerly the executive director of the Commercial Vehicle Training Association. The award is named in his honor. He believed that honoring a top rookie driver helped show new drivers they are appreciated by the trucking industry.