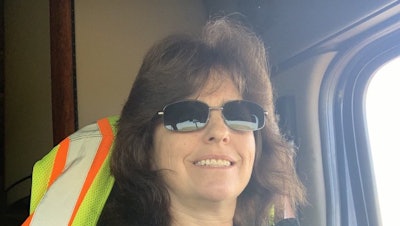 E.L. Henderson Trucking Co. rookie driver Kandy Qualls has one goal for her trucking career, and it's a goal that all truckers — rookie and veteran alike — should share: be as safe as possible.
Qualls wants to be the safest driver she can be because she knows what it feels like to lose a loved one. Qualls' daughter was murdered in 2012, leaving behind two young children — Qualls' granddaughter and grandson — who Qualls and her husband are raising.
"I might not ever be the best but I want to be the safest because I don't want to be the one to take somebody else's child or loved one away, and I don't want to end up that way myself," Qualls said. "It's just my rule of thumb to be safe. Whatever I can do to be safe, that's what I want to do. I don't want to be that person that causes someone else's life to end."
Qualls was recently announced as a finalist for the 2019 Mike O'Connell Award for Trucking's Top Rookie. The award will be presented by Truckers News at the Great American Trucking Show in Dallas, Aug. 22-24.
Qualls encourages rookie drivers just starting out to get as much training and experience as they can before they go out solo. She credits her fellow truckers, both at E.L. Henderson and those she's met over the road, for helping her be successful by lending a hand or sharing advice whenever she has needed it.
"It's been an adventure. Every day I wake up to a new adventure. I know driving a truck, yeah, but every day is different. There are no two days the same," Qualls said. "Get all of the experience you can get before you get turned loose. Learn it."
Before trucking, Qualls spent 20 years as a machinist. She worked on everything from Eaton transmissions for trucks to landing gears for Airbus and the military.
Trucking has given Qualls the opportunity to spend some quality time with her family. One of her sons was able to ride on the truck with her before he deployed to Afghanistan, and her 11-year-old grandson was able to take a two-week trip with her. Her 9-year-old granddaughter is eager to turn 10 so she can take a trucking trip as well.
"I took my son before he went to Afghanistan. He got to ride with me so I could spend some time with him," Qualls said. She loves "being able to have them on my job and getting to ride with them, usually you talk more when you're riding on the truck."
The Mike O'Connell Award for Trucking's Top Rookie will be presented at the Great American Trucking Show Friday, Aug. 23 at 2 p.m. on the Truckers News Stage in Hall "A" of the Kay Bailey Hutchison Convention Center in Dallas. Registration for GATS is free online in advance of the show.
The winner receives $10,000. They also receive a prize package worth $530 from the RoadPro Family of Brands, which includes a RoadKing Noise Cancelling Bluetooth Headset, LUMAGEAR Headlamp, PowerDrive 1000 Watt Bluetooth Pure Sine Wave Power Inverter, BlackCanyon 64 oz. water bottle, BlackCanyon Large Duffle Bag, MobileSpec Qi Wireless Charging Mount, and RoadPro 12 Volt Soft Side Cooler. The winner also receives a ClearDryve 200, Rand McNally's premium noise-cancelling 2-in-1 headphones with removable ear pieces and adjustable boom mic and the current Deluxe Motor Carriers' Road Atlas.
The other 10 finalists receive $1,000, a RoadPro Family of Brands MobileSpec Qi Charger, and Rand McNally's ClearDryve 200.
The Top Rookie award is presented by Truckers News with the support of the Commercial Vehicle Training Association, National Association Of Publicly Funded Truck Driving Schools, and Professional Truck Driver Institute.
Recognizing the top rookie driver was the idea of the late Mike O'Connell, who was formerly the executive director of the Commercial Vehicle Training Association. The award is named in his honor. He believed that honoring a top rookie driver helped show new drivers they are appreciated by the trucking industry.