There are any number of ways carriers, companies, organizations, and even law enforcement officials are saying thanks during this week, National Truck Driver Appreciation Week. Trucker appreciation week runs through Saturday, Sept. 14.
The Washington Trucking Associations will give drivers free breakfast and lunch at different locations throughout the week. Breakfast will be served from 6-9 a.m., and lunch will be served from 10 a.m. to 1 p.m. Drivers can grab food at the following locations:
Tuesday, Sept. 10, at Bow Hill Weigh Station
Wednesday, Sept. 11, at Spokane Freightliner NW
Thursday, Sept. 12, at Grandview Weigh Station
The Nebraska Trucking Association and members of the Nebraska State Patrol are sharing cookies with truckers.
In honor of National Truck Driver Appreciation Week, the Nevada Trucking Association offers free lunch to all professional truck drivers on Tuesday, Sept. 10 at the SNS Diner in Las Vegas from 11 a.m. to 1 p.m. and on Wednesday, Sept. 11, will give gifts to members and drivers traveling through our state at the Truckee Scales at the Nevada-California border.
Rand McNally has created a unique way to thank a trucker during this year's appreciation week. The maker of maps and electronics created four ecards you can send to truckers you appreciate.
In honor of National Truck Driver Appreciation Week, ATBS — American Truck Business Services — is giving away what it calls "the ultimate truck driver appreciation prize package" to one grand prize winner and $50 gift cards to two runners-up. Check out the details and to enter.
Don't forget to tell Truckers News about that special truck driver you appreciate. Send the details to i Luv My Trucker. Your special might even get lunch on us.
Here's what folks are saying about truckers: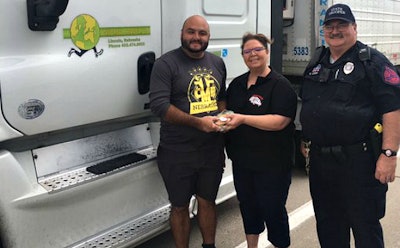 Marc Althen, president of Penske Logistics: "Our drivers provide a vital service and play a key role in our success. I wish each a safe and enjoyable National Truck Driver Appreciation Week."
Daniel R. Furth, President of National Tank Truck Carriers: "In this time of capacity constraints across transportation, communicating our respect for professional drivers is more important than ever. Driver Appreciation Week gives us that opportunity, but it should also remind us that these hard-working professionals deserve our praise on each and every load."
Judy R. McReynolds, ArcBest chairman, president and CEO: "All of us depend on truck drivers to deliver goods, and I'm proud to recognize the efforts of our ABF Freight drivers and Panther® owner-operators, as well as all of our contracted carriers. Our professional drivers provide a great customer experience and deliver excellence every day."
Chris Spear, American Trucking Associations president and CEO: "Truck drivers play a critical role in the nation's economy and deserve the recognition that this week brings. Beyond delivering office supplies, building materials, and school books, truck drivers deliver the tailgate essentials and festive fall favorites that make this time of year so enjoyable."
Anthony Eber, human resources director Automotive, Engineering and Manufacturing at DHL Supply Chain: "This week gives us the opportunity to show our appreciation for the men and women who help DHL Supply Chain provide unmatched customer service every day. Our drivers are critical to our ability to think beyond the next shipment for our customers. Because of them, we are able to continuously innovate to enhance the customer experience."
Traci Nelson, president of the West Virginia Trucking Association: "This week was created to commemorate and support the industry professionals who work daily to deliver America's goods. Truck drivers are hardworking men and women who practice safety on the roads and serve as the face of our industry. These drivers improve our collective quality of life by making personal commitments to safety and delivering our critical goods like medicine, food, building supplies and clothing.
John Whittington, senior vice president of Grammer Industries: "The industry professionals that transport the gasoline that fuels our cars, the chlorine that purifies our water, the fertilizer that improves our crops, the paints that improve our homes, and even the syrup that sweetens our soft drinks are essential to American life as we know it. We greatly appreciate all that they do for our country on the road, day in and day out."
Angela Kane-Haas, CFO of Kane Transport: "Professional drivers are the face of the tank truck industry. For many customers and consignees, the driver is the only company representative that they see most regularly. We're proud of our drivers who really serve as ambassadors for our companies and stand as examples of the highest safety performance. Our drivers' commitment to safety is paramount to the success of our carriers, our customers, and the many people with whom we share the road each day."
Barry Pottle, president of Pottle's Transportation: "This is one of the industry's proudest weeks because our well-deserving drivers get to receive praise from the general public, media, and lawmakers. If you see a truck driver this week, please make sure to thank him or her for their safe contributions to our country and economy."
And, many carriers used social media to thank their drivers and ll truckers.