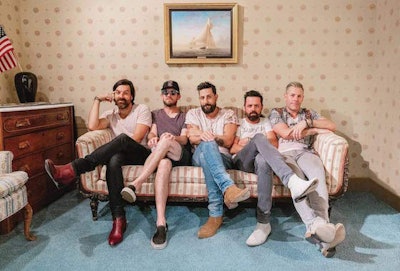 Old Dominion — the band, not the fleet — will release its self-titled third album Friday, Oct. 25. The group co-produced the album alongside its longtime collaborator Shane McAnally.
The five-member band includes Matthew Ramsey (lead vocals), Trevor Rosen (guitar, keyboards), Whit Sellers (drums), Geoff Sprung (bass guitar), and Brad Tursi (guitar). They're a two-time ACM Group of the Year and their sophomore album "Happy Endings" debuted at No. 1 on the Billboard Top Country Albums chart and was nominated for ACM Album of the Year.
Their new album's first single "One Man Band" has already amassed 75 million U.S. streams and counting.
The album is available for preorder on Amazon and Apple Music.
The album's tracklist:
1. Make It Sweet
2. Smooth Sailing
3. One Man Band
4. Never Be Sorry
5. Me Heart Is A Bar
6. Midnight Mess Around
7. Do It With Me
8. Hear You Now
9. I'll Roll
10 American Style
11. Paint the Grass Green
12. Some People Do