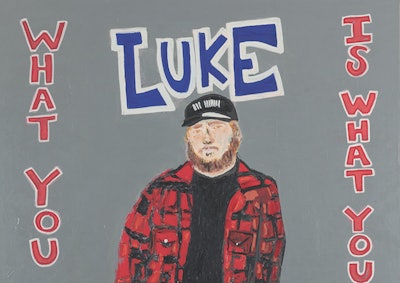 Luke Combs is unapologetic on his new album "What You See Is What You Get," due out Nov. 8. The 17-track album follows the release of Combs' five-track EP "The Prequel" earlier this year, which saw all five off its songs make it onto Billboard's Hot Country Songs Top 25 – a feat that had not been achieved in 60 years since Johnny Cash in 1959.
Combs revealed the track list for his new album Oct. 7. The album includes a duet with Eric Church on "Does To Me" and a collaboration with Brooks & Dunn for "1, 2 Many."
The album is available for preorder from Amazon and Apple Music.
The album's track list:
1. Beer Never Broke My Heart
2. Refrigerator Door
3. Even Though I'm Leaving
4. Lovin' On You
5. Moon Over Mexico
6. 1, 2 Many
7. Blue Collar Boys
8. New Every Day
9. Reasons
10. Every Little Bit Helps
11. Dear Today
12. What You See Is What You Get
13. Does To Me
14. Angels Workin' Overtime
15. All Over Again
16. Nothing Like You
17. Better Together