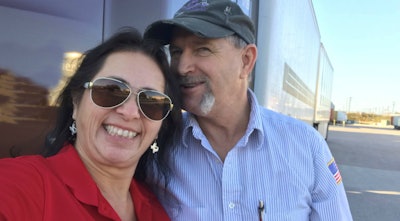 When most people think of over-the-road trucking, one of the first things that comes to mind is the time away from home and loved ones. That's not always the case, however. A few couples have found a way to close the distance of driving over the road — by doing it together. With Valentine's Day looming, four couples weighed in on what it's like to mix work and love on the road.
Brook and Jonny Rogers
It really was love at first sight for Brook and Jonny Rogers—the couple met online through a dating site, and 24 hours after meeting in person, they were engaged. Three months later, the two drivers were married and heading out together in Jonny's truck. For nine months the newlyweds lived out of the tiny sleeper before buying a house, but three and half years into their marriage, they still prefer being together in their truck (although they have invested in one with a larger living space). Brook is at home recovering from back surgery right now, but she's looking forward to rejoining Jonny on their runs hauling airline freight as soon as her doctor gives the word.
Even though their home was on the go, Brook says from day one it was important for them to have the elements of a typical home. "I made sure I was keeping the rituals of a home-based life," Brook says, which included stopping and preparing dinner and eating together. They also went to bed together every night, regardless of their schedules.
Part of that bedtime routine also includes giving each other a kiss, saying "I love you" and saying "goodnight," no matter how difficult the day was, says Jonny.
"The key thing is making sure you let your spouse know that no matter what happened today, you are still my best friend, I still love you, and I'm still going to wake up next to you tomorrow and be here for you tomorrow," Jonny says. "Whether you've had a bad day or a good day, you have to be there for your spouse."
Brook says that the close quarters of team driving has actually helped grow their marriage. "The trucking experience brought our love and relationship to a completely different level," she says. Long periods of time in the small space of their truck taught them about each others' personality traits, habits, and quirks, but most importantly, how to communicate with each other.
Jonny agrees. "Our communication is unlike anyone else."
Libby and Johnny Uselton
Libby and Johnny Uselton met in 2013 when they were both driving solo, hauling merchandise for Dillards. They hit it off after crossing paths at the Fort Worth terminal and married in 2015. They spent two and half years driving together before Johnny had neck surgery and retired in August 2019 after 40 years on the road. Libby has taken some time off but plans to drive again this summer with Johnny as her passenger.
Compatibility is key if you're going to drive with your spouse, says Johnny. "You better be able to get along with each other," he says.
"And luckily, we do get along really well," Libby says.
Team driving has taught them how to work together more than they might otherwise, says Libby. For example, they participated in an ATV race where Johnny was blindfolded and driving while Libby gave him directions. They won with a time of only two minutes, and their friends credited their working together as part of the reason. "We've gotten used to relying on each other," Libby says. "You know the other person, and you trust them."
Holly and Mark O'Donnell
After Mark O'Donnell's divorce from his first wife, he reconnected with Holly, a friend he'd lost touch with but had known for years. The two veteran truckers quickly found love and not long after started team driving together. They've driven together for five years now and will celebrate their four-year wedding anniversary in June. They use their custom truck, "The Family Tree," to haul for Bennett Heavy and Specialized's arms, ammo, and explosives division.
Both Mark and Holly say the idea of being a team (both on the road and off) helps make their lifestyle work for them. Part of that was learning to trust each other, Mark says. Even though they both had good driving records and plenty of experience, becoming comfortable with each other's driving habits took time. "I think I slept with one eye and one ear open that first week," he laughs.
Transitioning from solo driving to team driving also took some time. "I'm used to my schedule," Holly says. "I run the way I run, and now I've got to adjust it to run with someone else?"
But learning to work together on the road also helped build their marriage.
"It's team driving," Mark says. "You're out here as a team, and you need to work as a team." Sometimes that means finding a compromise when they have slightly different ways of doing things, but it also means leaning on each other's strengths. "You have to be compatible in both work and marriage," he says.
The result is a partner for not only work, but life as well. "We enjoy our time together," Mark says.
Kenn and Beth Zelten
Twenty-year trucking veteran Kenn Zelten was letting off some steam at the racetrack one weekend when he met Beth, a photographer covering the race. Six months later, she became Beth Zelten and a trucker's wife. For the first year and a half of their marriage, Beth worked a "typical" job while Kenn drove a local route that had him home every night. It was a life that worked for them, but in 1989, changes at Kenn's company eliminated his job. He looked at it as an opportunity for the couple and asked Beth to join him on the road. Beth agreed to do it "for a while," but now, after 30 years on the road with Kenn, she can't imagine life any other way. The owner-operators currently haul high-security reefer loads for the government and pharmaceutical companies.
"It's not for everybody," Beth says. "It takes a special couple to be out here together." One of the keys to making it work, she says, is learning how to fight. "That curtain doesn't slam like a good door," she laughs. While Beth says they absolutely have fights, they've both learned to hold their tongues and to let little comments go. "Our relationship is way more important than any fight," she says.
"You've got to temper yourself, both on the receiving end and the giving end," Kenn adds. "Learn to give and take."
"That's where the love comes in," Beth says. "The love is what gets you through and helps you fight with respect."
And the benefit? "Being with my best friend, seeing the world together," Beth says.