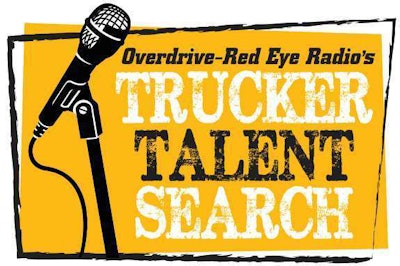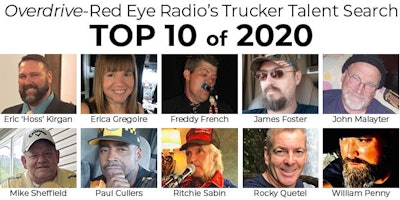 The seventh annual Overdrive-Red Eye Radio's Trucker Talent Search received more than 50 entries from talented truckers who love to sing. A panel of judges reviewed all the entries, and they have chosen a top 10. Visit TruckerTalentSearch.com to view the videos.
Eric 'Hoss' Kirgan
Pittsfield, Illinois
Company driver, Jim Carnes Trucking LLC
Erica Gregoire
Canaan, Maine
Owner-operator leased to Reliable Carriers Inc.
Freddy French
Addison, Illinois
Owner-operator leased to D&E Transport
James Foster
Fremont, Iowa
Company driver, Aschenbrenner Trucking
John Malayter
Rogersville, Tennessee
Company driver, Jordan Carriers
Mike Sheffield
Evarts, Kentucky
Company driver, Freight America
Ritchie Sabin
Elmira, New York
Company driver, G&T Expediting
Rocky Quetel
Annapolis, Maryland
Annapolis City Fire Department
Paul Cullers
Dayton, Ohio
Company driver, Ashley Distribution
William Penny
Summerville, South Carolina
Owner-operator leased to Trailer Transit
Judges will pick three finalists this summer. The Trucker Talent Search culminates in late August with an online broadcast of each finalist performing an additional song to compete for the top prize, which is a day's recording session at a Nashville studio. The winner also will be profiled in Overdrive.
The online event will be part of GATS Week, when major events that had been scheduled for the Great American Trucking Show in Dallas will be held as virtual evening events Aug. 24-28. More details will be announced.