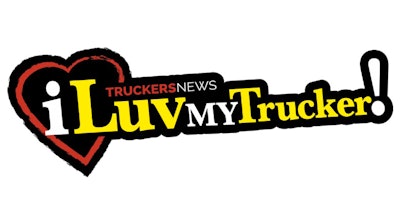 National Truck Driver Appreciation Week is the perfect time to say, "i Luv My Trucker!".
Only a few short months ago, as Americans tried to get their heads around something called the COVID-19 coronavirus and panic shopping emptied grocery store shelves, professional truck drivers quickly became "essential" and were hailed as heroes by everyone from President Trump to kids holding up homemade "thank you" signs at truck stops.

And, truckers continued doing what they always do: delivering the goods the rest of us need. They did it often without access to hot meals because truck stop dining rooms closed. They did it often without access to restrooms or showers and other facilities the rest of us take for granted because of strict new health controls. When face masks were required, many had to improvise on their own and the hand sanitizer others hoarded was scarce for truckers, even those who delivered it. At times, food on the road was a random brown bag lunch donated by strangers and handed through the truck window at an interstate rest area.
But, while the pandemic is far from over, most truckers have seen their days return to something resembling normal in pre-COVID-19 days. Still, they deserve thanks and appreciation more than ever.
That's why once again Truckers News will help celebrate National Truck Driver Appreciation Week — Sept. 13 to 19 this year — with our annual i Luv My Trucker! promotion.
As in the past, we're asking truckers' friends, families, co-workers, and others to help us recognize the professional drivers they love. Use the simple entry form and tell us a bit about the trucker you love and why, and send along a photo of them. We'll post all of the entries on the Truckers News website.
Then, after Truck Driver Appreciation Week, we'll choose five and do our best to buy them lunch, sending them a $25 gift card for Subway.