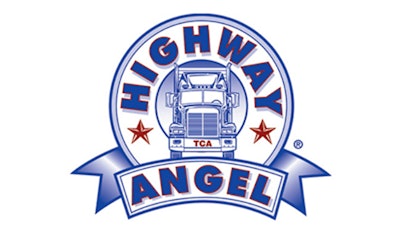 A Vermont trucker was recently honored for stopping to help an injured motorcyclist.
The Truckload Carriers Association named Jeremiah Johnson, from St. Alban's Vermont, a Highway Angel for coming to the rescue of a motorcyclist who lost control and skidded across the pavement trying to avoid a deer.
The TCA explains: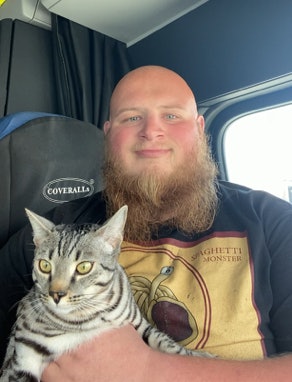 It was June 15 around mid-afternoon, and Johnson was on Interstate 70 going through Missouri with a load bound for the West Coast. There was a motorcycle about 900 yards ahead that disappeared as he went over a hill. "As I crested the hill, I saw him come to a screeching halt and slide across the pavement as a deer ran off into the grass on the right shoulder," said Johnson. The trucker pulled up behind where the motorcyclist was lying to divert traffic, turned on his four-way flashers, and jumped out to assist. A couple of cars pulled over to the shoulder.
"Another guy and I rushed over to the motorcyclist," recalled Johnson. Thankfully, the man was wearing a helmet. "He was trying to stand up," said Johnson, "but I told him it was best not to get up. He was able to tell us his name, and the date, and where he worked, but he may have sustained a concussion." Johnson rushed back to his truck and grabbed his emergency first-aid kit. "We did what we could to comfort him and keep him still and we talked to him to help him maintain consciousness," said Johnson. Just a few minutes later someone else stopped to help. "She was either a nurse or a paramedic," he recalled. "I held his head steady to stabilize his neck as she cut his clothes away to check for injuries."
An ambulance arrived about thirty minutes later. "By that time, he was really confused about what had happened and where he was," said Johnson. He helped load the motorcyclist onto the stretcher and waited for the ambulance to leave. Johnson said he hopes the man didn't sustain any serious injuries.
For his willingness to assist a fellow driver, TCA has presented Johnson with a certificate, patch, lapel pin, and truck decals. His employer has also received a certificate acknowledging their driver as a Highway Angel.
Since the program's inception in August 1997, nearly 1,300 professional truck drivers have been recognized as Highway Angels for the exemplary kindness, courtesy, and courage they have displayed while on the job. Thanks to the program's presenting sponsor, EpicVue, and supporting sponsors, DriverFacts and Drivers Legal Plan, TCA is able to showcase drivers like Johnson.