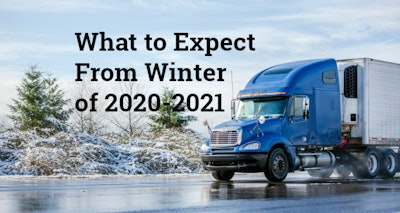 While Fall just arrived recently, AccuWeather took time out from all things pumpkin spiced to turn its attention to Winter. The national forecaster suggests the winter of 2020-2021 will:
be influenced by La Nina, the condition in which surface water in the Pacific Ocean near the equator is cooler than normal. It delivers wetter than normal conditions across the Pacific Northwest, northern Rockies, and into the northern Plains but drier weather across the southwest and South.
feature slightly milder than normal temperatures through much of the East
include an early arrival of Arctic air that will drive down temperatures in the Midwest, Great Lakes and Northeast, but the season will spare those regions heavier than normal snowfalls
see slightly warmer than normal temperatures for the bulk of the nation except for the Pacific Northwest
have a chance for frequent snowfalls in the northern Plains in parts of Nebraska, Iowa, North Dakota, South Dakota, and Minnesota
See Accu Weather's complete Winter 2020-20121 outlook here:
Regardless of the season, the savvy trucker always has a weather eye open and consults the forecast for where they're going as they do their trip planning.
Fortunately, there's a boatload of apps that can give you more than just the time and temperature you're likely to get on the radio as you drive. Many can give you current conditions and also fairly accurate short and long-range forecasts.
Among the best weather apps available for either Android or iOS are: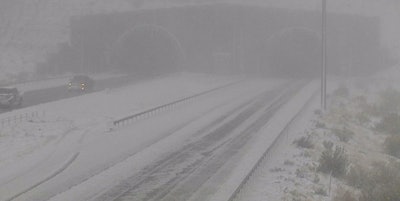 Dark Sky (for iOS only)
Weather On The Way (iOS only)
Before you download and install any weather app, be sure to see if there are in-app purchases that are required to unlock the information of most value to you. Also, many apps will include ads, which may annoy some drivers.
Also, every trucker phone ought to have the weather app for local television stations in communities you travel through frequently. They're likely to have the best truly local information and can be helpful to check on your way, especially if storms are brewing. They are also likely to give you traffic information in case of weather emergencies.
And, of course, you'll be weatherwise to tap into the source for most weather information, the National Weather Service. The NWS delivers a detailed daily forecast for the entire nation. But, for the trucker on the road, it might be better to find local or regional NWS outposts and follow them on Facebook. They do an excellent job of forecasting, updating, and alerting folks to weather changes. This is especially true of getting real-time information about severe weather like thunderstorms, tornadoes, hurricanes, and blizzards. Just search for the National Weather Service in the cities where your travels take you. It's also easy to add and hide local NWS outposts if and when your routes change. If your trucking takes you to the South and along the East Coast, you may wish to follow the National Hurricane Center as there are more and more tropical storms brewing these days.
Now, help us out and use the Comments section below to share what weather app(s) you find helpful for trip planning and while on the road.