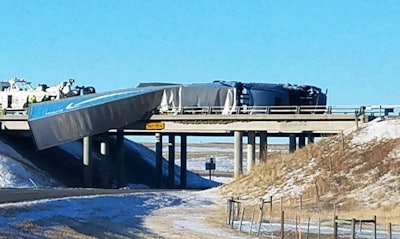 This has been a brutal winter for much of the U.S., and truckers have paid the price.
A high wind warning is in effect for numerous parts of Wyoming today, with the National Weather Service forecasting West winds of 30 to 40 mph with gusts up to 60 mph expected.
Wyoming Department of Transportation crews responded to a crash on Interstate 25 south of Chugwater involving a tractor-trailer that was blown over. The incident occurred around 5:53 a.m. northbound near milepost 54. There were no reports of injuries to the driver.
The Bear Creek weather station reported average wind speeds of 54 mph with gusts of 67 mph.
For the latest road and travel information, visit WYDOT's 511 website at https://wyoroad.info/
Last month, some 18 tractor-trailers were blown over in the southwest part of the state.