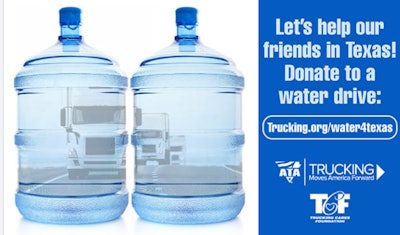 Trucking organizations are stepping up to help Texans who have suffered through the loss of light, heat, water, and food after the state and its power grid were battered by successive winter storms and record low temperatures this past week.
The American Trucking Associations is rallying its members to help get relief supplies to the state's residents. CNN reports 85,000 residents still have no electricity and some 15.1 million Texans -- about half the state's population -- do not have access to safe drinking water.
Water is the focus of a relief effort organized by the ATA, which posted to Facebook Friday, Feb. 19:
Our friends in #Texas need your help! With many homes and businesses without power and water, we're asking our trucking family to not only keep all those affected in your thoughts and prayers, but to help ATA coordinate relief efforts, either through cash donations, relief supplies or donated transportation.trucking.org/water4Texas

We're working closely with the Texas Trucking Association and the Southwest Movers Assoc. and will be sending ATA's Share the Road and Workforce Heroes trucks to Texas this weekend, both filled with much needed water. ATA's America's Road Team truck will leave next week.

If you are able to donate to ATA's efforts to help those affected in Texas, please let us know. You can make a financial donation through Trucking Moves America Forward at #Water4Texas #WinterStormUri
President Joe Biden signed a federal emergency declaration to ensure federal agencies are mobilized to help Texas and federal funds are made available.
The winter storms that wreaked havoc in Texas caused problems throughout the country from New Mexico, across parts of the South, and into the Northeast. Record snows caused travel problems for truckers, stranding hundreds in Arkansas earlier this week. At least 38 deaths nationwide have been blamed on the winter storms of this week.
Foul winter weather also prompted the Federal Motor Carrier Safety Administration to issue an emergency declaration for 33 states and Washington, D.C.