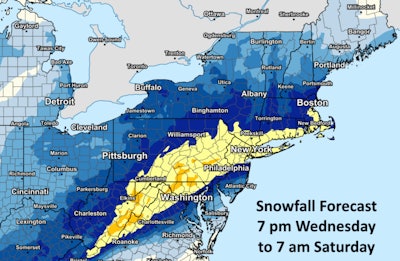 Numerous winter storms that have swept the nation in the past week prompted regional field administrators of the Federal Motor Carrier Safety Administration to issue an emergency declaration that exempts some commercial vehicle drivers from certain regulations.
According to the declaration issued Wednesday, Feb. 17, commercial vehicle operators in the covered jurisdictions are exempt from provisions of Parts 390 through 399 of the FMCSA's regulations.
The declaration is effective immediately and will remain in effect until the end of the emergency or until 11:59 p.m. Eastern Time March 4, whichever is earlier.
Here's the outlook for what is being called a "freight train of a storm" forecast for today and Friday.
Affected states and jurisdictions in this emergency declaration are:
Arkansas
Connecticut
Delaware
Illinois
Indiana
Iowa
Kansas
Kentucky
Louisiana
Maryland
Massachusetts
Minnesota
Mississippi
Missouri
Montana
Nebraska
New Mexico
New York
North Carolina
North Dakota
Ohio
Oklahoma
Oregon
Rhode Island
South Dakota
Tennessee
Texas
Virginia
Washington, D.C.
West Virginia
Wisconsin
Wyoming
The emergency declaration gives regulatory relief to commercial motor vehicle operators "while providing direct assistance supporting emergency relief efforts transporting supplies, goods, equipment, heating fuels, including propane, natural gas, and heating oil, and other fuel products including gasoline into the affected states, and transporting persons into and from the affected states, or providing other assistance in the form of emergency services during the emergency in the affected states from severe winter storms."
According to the FMCSA, direct assistance terminates when a driver or commercial motor vehicle is used in interstate commerce to transport cargo or provide services not in support of emergency relief efforts related to the severe winter storm, or when the motor carrier dispatches a driver or commercial motor vehicle to another location to begin operations in commerce.