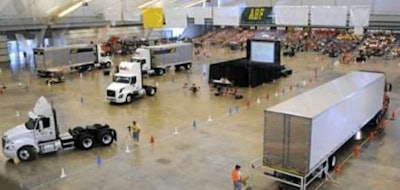 Another of the trucking industry's major events has fallen victim to the COVID-19 coronavirus pandemic.
The American Trucking Associations Wednesday, Feb. 17, announced it will not hold the 2021 National Truck Driving Championships & National Step Van Driving Championships, which had been scheduled for Aug. 11-14 in Minneapolis. The event was also canceled last year because of the pandemic.
In a letter to ATA members, President and CEO Chris Spear said the decision to not hold the event was made, "After discussing major challenges such as travel bans, equipment donations, CDC restrictions, ability for state associations to host events prior to August, and building capacity in Minneapolis ..." He added, "This decision is made out of an abundance of caution on behalf of the professional drivers, companies, and family members who organize, host and cheer the competitors. We believe this decision is necessary to maintain the integrity and atmosphere of a 'national' championship.
Last year's cancelation of the championship event was the first since Worl War II,. according to Spear's letter.
He closed by saying, "We certainly look forward to seeing you in Indianapolis (Indiana) in 2022.
The ATA's decision comes shortly after organizers of the Mid-American Trucking Show this week announced it would not hold a show this year. Its 50th anniversary show is scheduled for March 24-26, 2022.